The Eifman Ballet. Capitol Theatre, Sydney. August 22 – 26, 2012.
Boris Eifman is sometimes described as a choreographer-philosopher. In his productions he dips into history, psychology, aesthetics and social comment. His ballet on composer Pyotr Tchaikovsky mixes all of these. Set to the music of some of Tchaikovskys best known works, the dancers present a dark view of the composer's life.
Originally Tchaikovsky fought for recognition in a Russia that tried hard to reject the music of the west, elements of which in Tchaikovsky's music they felt made it popular. This professional turmoil was not helped by inner turmoils – his mother's death, his thirteen year financial sponsorship by a wealthy widow, and his homosexuality, which he had to keep private in Russia's almost Victorian sense of propriety.
It is this inner turmoil that Boris Eifman has portrayed in his ballet. Tchaikovsky, celebrated composer and conductor, is here pursued incessantly by his alter ego, the sexuality that he tries to suppress but that he cannot escape. Portrayed beautifully but almost villainously by Alexei Turkov, it dogs the composer relentlessly, tempting and luring. Nikolay Radzius is the tormented Tchaikovsky. Together they perform the most arresting and intricate leaps and lifts as one tries to expose and the other to resist.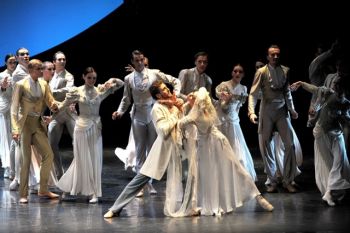 Behind them the dancers portray Tchaikovsky's life. The wealthy nobility of 19th century Russia dance in ballrooms or promenade in the park, but are conformist and intolerant. White swans suggest there is some chance of happiness but are superimposed by threatening blackbirds who symbolise despair. His sponsor and mentor, the widow von Meck appears again and again, succouring and encouraging, as does a loving wife, but the omnipresent alter ego returns and lingers, depressingly.
The second act mirrors the first, with the re-appearance of the swans this time chased away by the red and black of playing cards in a fast, intricate, culminating segment.
Despite the underlying melancholy of the story, Tchaikovsky's music, Eifman's choreography and the precision, talent and experience of the dancers carry the production past depression. Eifman has the rare talent of being able to show his concern with the "secrets of creativity and the magic of genius" through the magic of dance. He blends Tchaikovsky's great musical legacy with his sad personal struggle in a performance that is bleakly beautiful.
Carol Wimmer