By William Shakespeare. Wyong Drama Group. Co-directed by Andy Kabanoff and Alexandra Mitchell. Wyong Grove Theatre. May 3-11, 2019
As brilliant a wordsmith as he was and as intriguing as his stories may be, Billy's oeuvre isn't for everyone. It's a veritable brain banquet when done well or downright baffling in the wrong hands. And the more our vernacular changes, the less accessible he becomes. Little wonder then, that some companies choose to specialise in his works, to keep honing and reinvigorating the genre.
In 67 years, this is WDG's second attempt at Shakespeare. It came to life as a passion project for Andy Kabanoff (who had directed it before), who then shrewdly enlisted the talents of budding director Alexandra Mitchell, whose diverse theatrical background and keen eye for design really injected this production with life in all creative departments.
True to form, this is a play about outsiders, power, trust, the subconscious and features heroes, villains and very quirky characters - and like most of Shakespeare's works, it was re-imagined on celluloid. Who could forget 1956's "The Forbidden Planet"?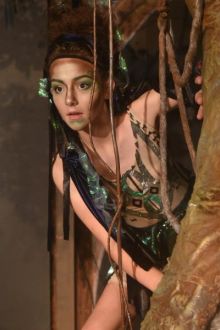 Yes, you read correctly. I was surprised too.
With 18 cast in total, this was a big production for a small stage, but thanks to an artistically rendered and modular set and efficient scene changes all was smooth sailing. If that wasn't enough of a cliché, this production really had 'all the elements'.
Providing both music (on flute and keyboards) and eerie atmosphere (large sound bowls) was local musician, composer and sound-healer, Louise Donnelly (aka Wandering Minstrel) whose use of celtic-influenced, original melodies provided an unobtrusive extra dimension to the ethereal nature of the text, while evocative choreography did the rest.
Oh, and the innards of what used to be a piano was used to great effect also.
With Kabanoff (deft as Prospero) and Tiffany Smith endowing Miranda with sweetness and sincerity, this added even more punch to the delightfully zany characterisations of Ariel, Caliban, Trinculo and Stephano, played by Laura Honeysett, Christopher Brame, Alexandra Travers and John Czernieki respectively. The remainder of the players (made up of familiar and new faces) held their own. It's always heartening to see a community theatre company willing to give their creatives free rein. The layers of this production give it a fresh and contemporary tone, so for those who have trouble keeping up with the text, there's is so much colour and movement to tell the story!
Rose Cooper