By Philip Ridley. Presented by La Boite & Brisbane Festival. Roundhouse Theatre, 21 Sep–13 Oct 2012
After the extensive promotional build-up to this play, I suspect I went along with false expectations. I am blessed with detailed long-term memory and I recall those euphoric highs and bitter lows of burgeoning new love, but mostly I recall the joyous physicality of affairs.
The talented pair in this play, played by Ellen Bailey and Kurt Phelan, didn't achieve any form of intimacy, not even holding hands, until the final moments. It was just words, words, words ─ sometimes lyrically poetical, other times violent and ugly.
The under-forties ─ the demography Artistic Director, David Berthold, is enticing to La Boite ─ seemed to enjoy it. This time last year Berthold described this as a 'firecracker' of a play. Chatter at the opening night celebrations suggested there were fireworks for younger theatregoers.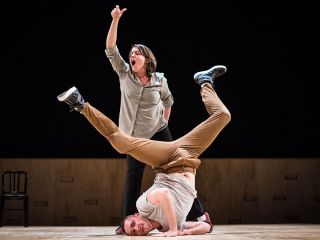 I agree Bailey and Phelan gave superlative physical and vocal performances. David Berthold directed the piece and Garry Stewart choreographed it, matching the performers' body language to the poetry of the script. Justin Nardella's simple design gave them uncluttered space to perform and create the 'other world' of their fantasies. Daniel Anderson and Steve Toulmin created complementary lighting and sound designs respectively.
I guess lust and love as I experienced them have become passé.
Jay McKee
Images: Tender Napalm (La Boite & Brisbane Festival). Ellen Bailey and Kurt Phelan. Photographer: Dylan Evans