By Mark O'Rowe. Blue Cow Theatre. Theatre Royal Backspace, Hobart. Director: Robert Jarman. 11-20 October 2012
An unlikely event – a girl falling from a crane – is the basis of a fantastical journey of story-telling by Mark O'Rowe, who wrote Terminus, Blue Cow Theatre's latest production. This gripping play is written in a lyrical, musical style of almost-poetry, the verse combining elements of reality and fantasy to tell a tale of contrasts between beauty and grittiness, warmth and cruelty.
Three characters deliver interwoven monologues to tell a violent tale. Director Robert Jarman, no stranger to wordy plays in his own extensive directing and acting career, drew out every element of the monologue style in his well chosen actors. The choice not to use Irish accents may have detracted somewhat from the inherent lilt of the Irish story, but the actors showed their ability to handle complicated language and violent themes.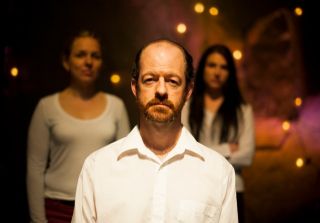 Jane Longhurst, playing a former teacher and lifeline counsellor, quietly tells of popping out the eyeballs of a female foe in a desperate fight to save a young pregnant woman. Anna Kidd gives a convincing insight into the life of an Irish twenty-something young woman whose longing for love and need to break her self-imposed period of isolation lands her in a dangerous situation. Jeff Michel's athleticism and skill with words is brilliantly employed as a character who, by turn, is a sympathy-inspiring sad loner then a violent murderer.
Scenes are played out in tiny tableaux, in a sparsely set stage, accentuating the isolation. The use of clever lighting design and application by Andrew McDonald is the essential fourth element in telling this violent tale, eliciting sympathy and revulsion in equal measure.
Over ninety five minutes, without an interval, the play is a gripping and ghastly, normal and surreal ride into the imagination. Good theatre.
Merlene Abbott
Photographer: Jennifer Skabo