By Ted Tally. Genesian Theatre Company (NSW). Directors: Mark Langham and Owen Gimblett. January 14 – February 4, 2012.
With so much attention on the Antarctic past at present, not just the anniversary of the final fatal expedition of Captain Scott, whose story is told in this play, but expeditions following in the steps of Douglas Mawson, and anti-whaling protests, Sydney's Genesian Theatre has successfully tapped into the theme with a production of the dark but fascinating Terra Nova.
The story of 'Scott of the Antarctic', as told, is a relentlessly grim and brutal tale, with a known ending of failure and death, critical of the folly of the gentlemanly British tradition of exploration which contributed to the unnecessary deaths of the British exploration party.
Personally, the well-written drama roused genuine feelings of anger and frustration at the misplaced British values highlighted.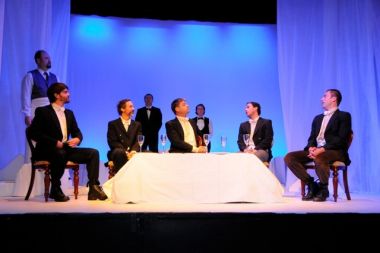 Roger Gimblett portrayed the flawed but heroic Captain Robert Scott on a somewhat classic tragic scale, with both very human and elevated poetic elements to his performance.
Scott is haunted throughout by his polar rival, and antithesis in exploration philosophy. Tom Massey is strong and unerring as his nemesis and rival, Roald Amundsen. The non-naturalistic structure of the play makes Amundsen an ever-present spectral figure in Scott's living nightmare, more than his rival, he also represents his conscience or alter-ego.
They head a well-focused cast who credibly portray the members of the doomed party, my occasional reservation being hard-to-understand accents. Flora Milne, made the play's only female character, Kathleen Scott, an engaging counterbalance to her earnest husband.
Co-director Owen Gimblett, also set and technical designer, established an evocative polar setting using little more than polystyrene, while costumes effectively evoked the protective outfits of the era.
Terra Nova is intriguingly written, powerful theatre, and Genesians' production tells its story unflinchingly, effectively and movingly.
Neil Litchfield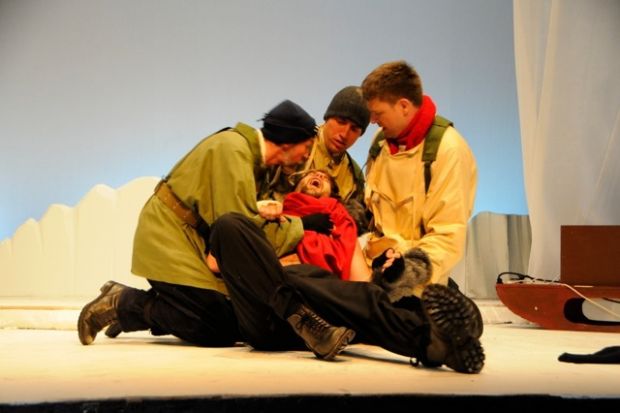 To keep up with the latest news and reviews at Stage Whispers, click here to like us on Facebook, or follow us on Twitter.