Book by Jeffrey Kindley. Music and Lyrics by Craig Carnelia. Suggested by the book of the same title by Ralph Keyes. PEP Productions. Doncaster Playhouse. April 20 to 29 April 2017
There are some things that give me a feeling of dread: big hairy spiders, snakes, cold tea, and getting an invitation to my high school reunion…
My hands became cold and clammy as I was handed my nametag in the foyer before the show. It really felt like a high school reunion was about to begin. However, I felt instantly comfortable and gratifyingly overwhelmed during the opening number. 'The Kids Inside' was incredibly performed by the cast, note perfect and arranged by Stephen Amos, a flawless way to start the show.
Is There Life After High School traverses the memories of a multitude of adults recalling their high school years. Act 1 is set up as a series of monologues and a few duologues of stories about young love, teen angst, missed opportunities, and forgotten hopes. Each character that we were introduced to felt like real tales that anyone could have come across in our teen years; The peppy cheerleader, the bully, the jock, the nerd... the stereotype list goes on and on.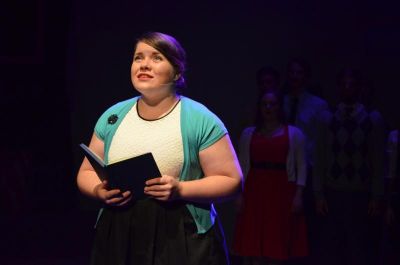 The highlight monologue was Curtis Mason as James, recalling a dream that he had as an adult having to return to school. His hilarious mannerisms and vocal qualities heightening the tension as the test booklet is left empty, whilst the front cover is covered in lewd images had the audience in complete hysterics.
Sonyta Trahar exquisitely and hauntingly sung 'Diary of a Homecoming Queen' as the ensemble moved in slow motion in the background to accent the chorus lyrics. We truly felt the heart ache of her story. Trahar was forever in the moment, capturing every last emotion she could.
In Act 2, we get to attend the high school reunion - of all time! The actors play multiple roles at any number of reunions. This is where we see the past catching up with the characters and the frailties of human emotions brought to the surface; of the past that still may adversely affect us 20, 30 years on from the moment it originally happened.
The only slight drawback I had was that this cast was too young to have graduated in the 60s as the script suggests. Creative tweaking of the years could have been made for more consistency with the age range of the actors.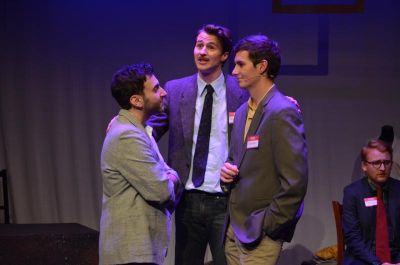 Director Justin Cleaver should be congratulated for his imaginative direction in a musical script that could have either been quite static or completely melodramatic. He kept his cast working as one, a complete ensemble where each performer accented the others in total harmony. The small stage was utilised with care and precision – a skill that Cleaver is awarded for.
The music, played by a live band back stage, was mixed to perfection. Music and singing complemented each other – there were no issues at the performance I attended.
Lastly, I do have to honourably mention Kathryn White's goofball choreography in the song 'Beer'. It would fit perfectly into any 'blokes' comedy film. The five males threw themselves into the movements, making it their own and suiting their character base. It was foolish, ridiculous, but most of all, utterly memorable.
Reviewed by Penelope Thomas