Mutation Theatre, Theatre Works (Vic). 17 - 27 March
During the excessive ten minutes waiting for Mutation Theatre's, "These are the Isolate" production to begin, I felt conflicted: how can a play that boasts the Victorian Writer's Centre Award for Best Emerging Playwright also boast a grammatically incorrect title?
Scepticism and English language book aside, I entered the Theatre Works auditorium greeted with harsh light on the audience, presumably to afford the theatre-goers blessed final moments to indulge in their conscious thoughts. For we were about to be taken on a journey down the dark recessions of protagonist Ed McCallister's mind.
The blurb provided to the audience is simple: "Ed McCallister is a happily married man who is neither happy nor married. When overlooked for a promotion at work he returns home to find a woman, possibly his wife, baking cakes and contemplating suicide. All he wanted was someone to remember his birthday". Ambiguous? Abstract. Headed by director Marcel Dorney, written by Katy Warner and performed by Tim Wotherspoon and Warner.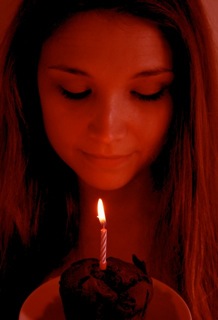 Stage right, Warner initiates the narrative with a spotlight and a monologue pondering the small creatures in her mailbox. Stage left, McCallister has just been overlooked for a promotion at work because he's not married. But then McCallister crosses the stage and repeats that he's just been overlooked for a promotion at work – because he's married. And so the disjointedness begins.
More questions were brought to the fore than answered such as: What took place before this play? Is the female character an illusion or a memory? What is real, and what isn't? Does Wotherspoon know his next line? He looks tentative.
I was not tentative about the contextualised theme of isolation. It was weaved nicely into the exploration of a contemporary relationship, where the guise of a happy marriage sends both parties to the edge of a chasm. Mutation Theatre attacks this nicely, but then it is their mission statement to create "engaging, challenging, entertaining, disturbing and high quality theatre".
Warner barks many of her lines, which becomes ironic as she later speaks of a dog. However she moves nicely around the space, and provides opportunities for Wotherspoon to appear anxious and tormented: a feat he pulls off effectively.
A winner of the Theatre Works 2010 Melbourne Fringe Award, director Dorney was asked to move the production to the much larger space of Theatre Works, as part of the 2011 Selected Works Season. This move was validated by Katie Sfetkidis's innovative and unspoiled lighting design, which – unlike costume, props and set – was not minimalistic. It was punchy and seamless, and ensured the whole use of the stage.
There are many opportunities to see this production at Theatre Works until its closing, on 27 March. This is especially handy for those have a spare 50 minutes up their sleeve and require a second viewing. However before attempting to find parking in the busy St Kilda area, understand that a play that is "critically acclaimed", and described as "a surreal exploration" is not often suitable for the masses. Also understand that you'll probably walk away with a hankering for cake.
Tammy Shmerling