By Neil Simon, Marvin Hamlisch and Carole Bayer-Sager. HIT Productions. Director / choreographer: Terence O'Connell. Musical Director: Robyn Womersley. Theatre Royal, Sydney, May 3 & 4, 2013, and touring.
Touring productions, pared back to the basics, in this case, two talented music theatre performers, supported on keyboards by their accomplished musical director, have their own distinct joys.
In a charm piece like They're Playing Our Song, you can sacrifice the sets, but never the performances.
Returning to its original Australian home in vastly simplified form, this complicated love story of a pop song-writing team, inspired by the real-life relationship of the team behind the score, Marvin Hamlisch and Carole Bayer-Sager,still charms, even if the piece has become very much of its time.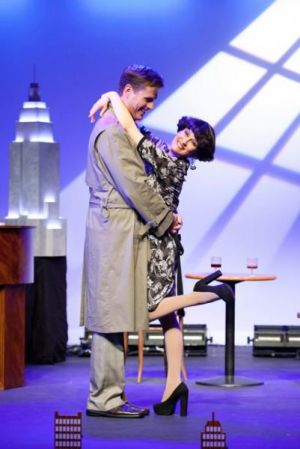 Though playing a major city venue, this was a stripped back regional touring version, looking perhaps a little sparse on a stage which has housed mega-musicals, with its utilitarian minimal props and furniture in keeping with same-day bump-in demands on the road, in venues of various sizes, in place of the multiple set changes of the original production.
Almost more an intimate Neil Simon comedy with songs as needed, than a musical in the usual sense, the Simon script is delivered with terrific timing by real-life husband and wife team Scott Irwin and Danielle Barnes, as composer Vernon Gersch and lyricist Sonia Walsk, two engaging characters each with their share of quirks and baggage, who meet to collaborate but quickly fall for each other.
A return visit to the Original Australian Cast Recording leaves no doubt that Irwin and Barnes do far greater justice to the score as a whole vocally.
If you're remembering that 1980 production, the two altar-ego 'Greek Chorus' backing trios are also gone, sometimes replaced by a backing track, while in the place of the period pop sound there's piano accompaniment, sometimes supplemented by recorded tracks. I won't deny that the lush orchestral sound is the significant loss from the original, which I first saw at the Royal some 30 years ago.
Minus the bells and whistles of a major commercial city production, this They're Playing Our Song still hits ample sweet notes, and is a joyous gift for regional audiences.
Neil Litchfield