Book By Richard Morris And Dick Scanlan. New Music By Jeanine Tesori. New Lyrics By Dick Scanlan – North Shore Music Theatre - Centrestage Theatre, Orewa, Auckland, NZ. 9 to 23 June, 2012.
TMM is one of the old fashioned, feel good, all singing, all dancing musicals. Set in the Roaring Twenties with bobbed hair, short skirts for the "modern flapper' all the rage, the book is extremely funny, with romance, gold diggers, slave traders and hilarious Chinese hotel porters.
Director Sherrin Scelly and Choreographer Val Hemphill, in what has now been announced as their "retirement" show, have both demonstrated what has been universally recognised as their particular expertise, Sherrin in casting and attention to detail and Val for wonderful tap routines and innate passion and talent to turn any cast into a creditable line up of tap dancers.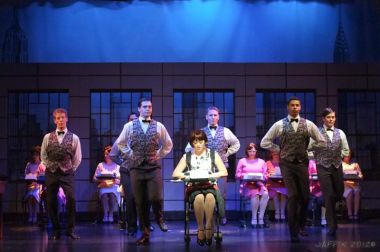 All the principals give strong performances. Melinda Joe as Millie Dillmount is most suitably enthusiastic, adventurous and determined to make her mark in New York City of 1922. Noted Producer / Director Grant Meese plays the part of Jimmy with grace and humour, obviously loving being on the stage side of the curtain after too long an absence. Janine Donnell ( Mrs Meers), Greg Milner-White ( Trevor Graydon) and Kirsten Robinson ( Miss Dorothy) show off great comic flair while Debby Penney brings her fabulous vocal dexterity to the role of Muzzy. Some of the biggest laughs of opening night were for Romel Gonzales who brought a delicious, ridiculous sincerity to the role of Ching Ho.
With costumes, props, lighting, sound and orchestra all as expected, opening night was marred by a few technical hitches, mostly to do with set changes. The set is large and ambitious and will no doubt be wrangled under control after a few performances with hopefully fewer stage crew in the midst of scenes.
Highly recommended if you like fun, frivolity and a jolly good laugh all wrapped up with some great acting, singing and of course tap dancing.
Pauline Vella
Photographer: John Ferguson