Book by Richard Morris and Dick Scanlan; new music Jeanine Tesori; new lyrics Richard Scanlan; based on original story & screenplay by Richard Morris for the Universal Pictures movie Thoroughly Modern Millie. The Production Company. State Theatre, Arts Centre Melbourne. 3 – 11 August 2019
There is much to admire and enjoy in this dazzling, all-out production of the 2002 Broadway hit. The story may be familiar – hick from the sticks comes to New York, New York to make her fortune – but in a thoroughly modern way. 'Modern', that is, for 1922. Millie Dillmount (Annie Aitken), from Salina, Kansas, plans to find a rich boss and marry him. Simple. On the way through intrepid Millie will also thwart the white slavers kidnapping girls and shipping them off to Peking (as it was then).
But the story or the silly, predictable plot is not the point. Or it is the point when we enjoy what fun Richard Morris and Dick Scanlan had with their deliberate assembly of clichés and musical show tropes, and their musical grab bag of old toons, homages and send-ups. Only the tune of 'Thoroughly Modern Millie' is retained from the 1967 hit movie.
The Production Company takes all that and gives it to us with a great on-stage orchestra (directed by Peter Casey in his 9th show for The Production Company), that sounds a lot bigger than it is, lots of irresistible tap dancing, glamorous costumes, ingenious design, pacey, knowing direction and a great cast – all of them consciously and playfully bringing types and caricatures to life. Everyone is just that bit over the top but what else would they do? And would it be as much fun if they didn't?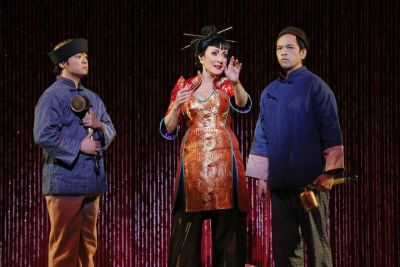 There are sterling performances from Adam-Jon Fiorentino as Millie's self-absorbed boss, Trevor, and from Nigel Huckle as Jimmy Smith, the paper clip salesman: both of these gentlemen understand perfectly what the show requires, and they certainly deliver with great vitality and charm. Queenie Van De Zandt just might be a little restrained by her role as dowager Muzzy Van Hossmere (the Fairy Godmother role) but she gives the show some old-fashioned cabaret oomph. Angela Scundi is strait-laced office termagant Miss Flannery – with a delightful couple of reveals.
There is that persistent issue of 'is this racist or not?' in the depiction of the two Chinese immigrants Ching Ho (Keith Brockett) and Bun Foo (Jonathan Chan) and their boss Mrs Meers (Marina Prior) who is only pretending to be Chinese. Well, 'Chinese' with a more Japanese pronunciation problem and references to anywhere in 'Asia' that is over there, somewhere. Dick Scanlan protested that these are deliberate caricatures and anti-racist because they show up how silly the caricatures are but judging by the hearty and raucous laughter from some sections of my audience, somehow, I don't think so. At least the always entertaining Mr Brockett and Mr Chan are of Asian background, and Ms Prior pushes the ridiculous every chance she gets. (You can see why audiences love Ms Prior – she takes what she gets and runs with it all the way.) The plot, such as it is (see above), desperately needs the white slavery B-plot as it supplies a sort of 'action climax' when the love story plot is just about over and out of puff.
Claire Lyon as Millie's BFF Miss Dorothy Brown makes credible the combination of dumb but stubborn – and she, together with Mr Fiorentino supply an amazing interlude with their song-and-dance romantic send-up of 'Ah! Sweet Mystery of Life' – which is very funny but somehow very sweet at the same time – one of the best sequences in the show, nicely contrasting with an oblivious Millie, who wants Trevor to love her, making a phone call.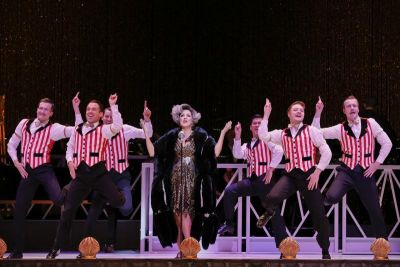 Of course, there is no 'correct' way to play the eponymous Millie, but I'd have thought that a degree of sweet naiveté might soften her mercenary ambitions and earn her a little more sympathy. Annie Aitken and her director Chris Parker, however, opt for brassy and focussed determination. For me, that's a strange choice and a little off-putting. Although we certainly know all along what's coming, this take on the character rather robs Millie of any poignancy when she realises she was wrong. None of that seemed to bother the opening night audience: they loved Ms Aitken and gave her thunderous standing ovation.
After the bold move of mounting the very risky Lazarus (the brilliance of its production aside), The Production Company's choice of Thoroughly Modern Millie for their second show of the year would seem to be a solid, middle-of-the-road choice for subscribers and lovers of the musical, reassuring and familiar, pastiche but perky, and loaded with talent, pizzazz and glamour.
Michael Brindley
Photographer: Jeff Busby