By Kathryn Schultz-Miller. The Gemini Collective. Fringe World. Directed by Sarah Williams. The Japanese Gardens, Perth Zoo, South Perth WA. Jan 24-26, 2020
A Thousand Cranes is a bitter-sweet theatrical event that sits beautifully at home in Perth Zoo's Japanese Garden. A smooth fusion of conventional theatre with dance, acrobatics, music and aerial artistry, this gently-told true story is told with love and enchants its audience.
The story of Sadako Sasaki, who fell victim to atom bomb sickness, is famous in Japan and throughout the world, and has been retold in many forms including film, animation and dance, but you would be hard-pressed to find a more beautiful rendition than this one by Adelaide based The Gemini Collective.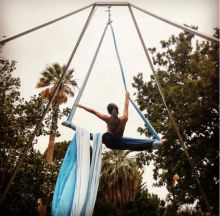 Seventeen-year-old Maddy Flapper is entrancing in the central role of Sadako, capturing the spirit of the preteen whose quest for peace has inspired millions. Best friend Kenji is given spark and humour in the care of Calin Diamond. Taylor Tran, though only a teen, gives maturity and gravitas to the characters of mother and (Grandmother) Obachan. Iman Saleh is lovely as Father, while Arwen Diamond completes the cast beautifully as the Doctor and Mrs Watanabe.
Quite a few of the suburban shows in Fringe World are struggling for audiences, and this little gem of a show is a supreme example of this struggle. An outstanding show, and very unique in style and substance, it deserves full houses, but had but a handful of patrons at its Saturday morning show.
You do not need to pay for zoo entry, and this show is suitable for all ages. I would wear sunscreen and take a parasol as the area is quite warm.
If you are a lover of physical theatre, or a fan of things Japanese, this show will be a favourite, but I can't imagine anyone not being charmed by this very sweet, very beautifully crafted production.
Kimberley Shaw