Adelaide Fringe Festival. One Fell Swoop Circus. The Peacock – Gluttony. February 17th – March 16th, 2019
By a Thread is a glorious mix of circus and modern dance. With special attention being made to the theatrical element of the performance, it showcases itself as an individual piece of storytelling.
Circus is not always performed in the traditional sense. In this production the focus is not only on the skills of the troupe, but on the relationships between the performers and this is precisely why the show is so special.
A bold spotlight illuminates a 30-metre-long thick rope; innocuous as it seems, the rope binds the ensemble, allowing us to witness the intricacies of not only the choreography, but the skills and mind-set of the cast.
The performance is set to the music of emotive piano concertos blended with more modern, richer tones of drums and synthesised instrumentals.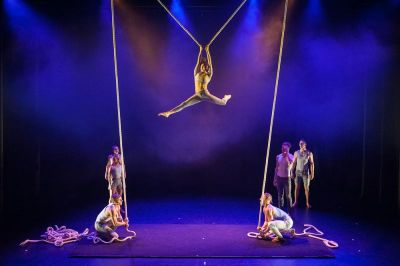 The performance space allows one to witness the impeccable timing and trust between members of the ensemble. From basing to flying, we see that although each performer has individual moves, collectively this allows for a flow of choreography that would not be possible without trust, or each other.
Each performer is highly skilled in acrobatics; demonstrating feats of strength and agility is intoxicating to witness. Focus on one apparatus such as the rope is an intriguing concept. Choreography was so beautifully executed that we were able to follow the literal highs and lows of the characters.
Directors Charice Rust and Jonathon Morgan have done a fine job in highlighting the dangers and risks involved in a genre that depends on skill and trust. Giving the genre of circus a more human feel makes this show stand out from the crowd.
Kerry Cooper