By Anton Chekhov. Sport For Jove. Reginald Theatre, Seymour Centre (NSW). July 28 –August 13, 2016.
The plot may be simple – three sisters pine to return to Moscow, but they don't. So while they journey to nowhere, there are plenty of rewarding stops in this mighty new production from Sport For Jove.
Mighty is the cast size of 20, and so too is the running time of three and a half hours, in this direct translation (Karen Vickery) true to Chekhov's original. Georgia Hopkins also fills her wide stage with all the details of Chekhov's world of provincial Russia circa 1900, while Emma Vime does the same with fine period costumes.
This big production also overflows with a rich choreography of playmaking, as visiting locally-barracked soldiers, servants and all those usual Chekhov hangers-on all come and go through the upper class home of the three sisters. Guest director Kevin Jackson foregrounds our focus through all key intimacies and revelations, while his ensemble maintains a wonderful ongoing tapestry, on and offstage, of whispered chatter, drama, laughter and music (with Peter Neville's soundscape).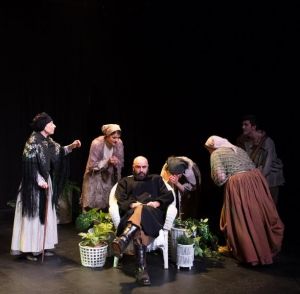 This then is a boisterous, very Russian household, an interestingly non-hierarchical group longing to escape themselves into dancing and drink, all sentiment, self-absorption and flashes of anger.
Here each character has the time to unfurl their own discontent and boredom. They also burst out in abrupt, declamatory moments of intimacy and philosophising – in a modernist harbinger of the Absurdists to come a half century later.
These biographical outpourings appear accentuated in this uncut translation, as opposed to modern adaptations, and are sometimes chewy in the mouths of this ensemble. Yet their level of acting truth and empathy is impressively consistent, especially from a truly sisterly trio – the conscientious teacher, Olga (Janine Watson), the artistic but unhappily married, Masha (Paige Gardiner), and the excitable Irina (Zoe Jensen).
Tom Campbell plays their hopelessly unravelling brother and Lauren Richardson, his misfit wife who bullies her way into running the household. Justin Stewart-Cotta plays the philosophising Lieutenant-Colonel, in love with Masha, while Graeme McRae and Dorje Swallow are convincing soldiers and competing suitors for young Irina, all with their own ghosts.
Noel Hodda is also inventive as the old doctor with a conscience lost to drink, as is Kenneth Moraleda as the cuckolded teacher.
Sport for Jove has hit another six.
Martin Portus