By Lewis Carrol adapted by Rosemary Nursey-Bray. Murdoch Theatre Company. Directed by Jordan D'Arcy. Studio 411, Murdoch University, WA. Nov 28-30, 2019
Murdoch Theatre Company's production of Through the Looking Glass and What Alice Found There was a sweet journey across a chess board with some fabulous characters with appeal to both adults and children.
In the first square we met Alice, played with conviction by Natalia Myslinkska, who anchors this adventure rather nicely. We get our first glimpse at Matthew Moynihan's chessboard inspired set and Sabrina Wyatt's effective lighting design.
In the second square we are introduced to the Kings and Queens, including Amy Swerlowycz's imperious Red Queen, who makes recurring appearances throughout. A group of flowers, led by Darby Sinclaire's kind Tigerlily help Alice progress on her journey.
The third square includes a train journey with some beautifully bizarre travellers, nicely created by Steven Correia (Papers), Kate Manson (Horse) and Thay Black (Goat).
The children in the audience particularly enjoyed the fourth square, including a nicely staged battle between Rosalie Schneider's Tweedle Dee and Stephanie Beckham's Tweedle Dum.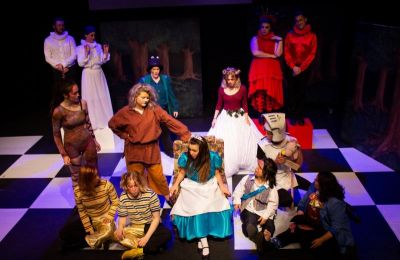 Kendra McGrady's White Queen was a lovely, vague feature throughout, especially in Square Five, where she transforms into a sheep.
A clear favourite of the audience, especially the younger members, was Mike Moshos' gloriously over-the-top Humpty Dumpty, with the Sixth Square also featuring the fight between the nicely costumed Unicorn and the Lion (good team work from Darby Sinclaire and Frankie Walker). and the appearance of The Mad Hatter (Zenna Newman).
Square Seven features a charming performance from Tomas Kenny-Simpson as the sweet but simple White Knight.
In the Eight Square Alice becomes a queen, and we see some particularly cute cameos including Bella Doyle's Leg of Mutton and Tessa Stephenson's Plum Pudding.
Always nice to see companies choosing shows that will appeal to the next generation of theatre goers. A couple of things would make the experience even more enjoyable. If a show starts fifteen minutes late, an explanation would be kind, and if the parting line to interval suggests that it is a break for refreshments, having refreshment available would be nice - especially on a hot day.
A lovely effort from these (mostly) student performers and creatives, of a loved but rarely performed classic.
Kimberley Shaw