By Jessica Tuckwell. Invisible Circus / The Impending Room. Kings Cross Theatre. Nov 6 – 25, 2016
Jessica Tuckwell's play is as strange as its title suggests. It's very absurdist, a little farcical and even a little moralistic … I think! It's the sort of play you think you've worked out until you start talking about it and realise that other people saw it from a completely different angle. But that's the sort of play that directors and actors love. A play that allows the chance for creative workshopping and even a little whacky characterisation, but one that also requires really tight direction and concentrated pace.
Director Cathy Hunt and a very experienced cast have made the play and its characters intriguingly watchable, albeit a little perplexing. The often-fast action occurs in a Satre-esque confined space where a strange collection of characters bounce dialogue off each other in a confusing roundabout of questions, accusations and instructions as they gear up for some sort of Talent Quest. Is this group therapy gone a little off course? Are they afraid of the world outside? If so, why? Is it climate change? Or something even worse?
Thomas Campbell plays the Brigadier, a sort of crazy, peppy scout-master, drill-sergeant band-leader who revs up the group whenever it seems to be losing steam. A role like this is a gift for Campbell who breathes energy and vigor into the character with rapid-fire dialogue, glowering expressions and strong, concentrated movement that is interspersed with moments of despair.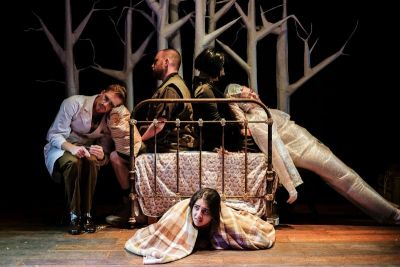 Catherine Terracini is Sonny. Sometimes taking the role of second-in-command, Sonny seems the most 'normal' or at least self-contained of this motely group. Like a persistent sheep dog, she rounds up the stragglers and keeps them in line. Teracini has an impressive voice and uses her strong presence on the stage to re-inforce this character.
Contessa Treffone is delightful as the bubble plastic-clad Pipkin who has never seen the outside world and dreams of the ocean, the sky, the wind. Treffone finds the naïve charm of Pipkin in sweet smiles and trusting belief in others, especially her protector and 'hero', Doug.
Doug is the scientist of the group, who is apparently working on a jelly-like potion that will somehow safeguard Pipkin. Michael Whalley has created a tightly controlled Doug whose movements and responses, though carefully structured and jerkily delivered, make him really endearing.
The character of Vino is the least likeable of the group – or that's how she seems, constantly sipping from a hip flask, making disparaging remarks about others, and striking racy poses. But actor Lucy Suze Taylor also finds the insecurities underneath the brashness of this character, especially in the final scenes of the play.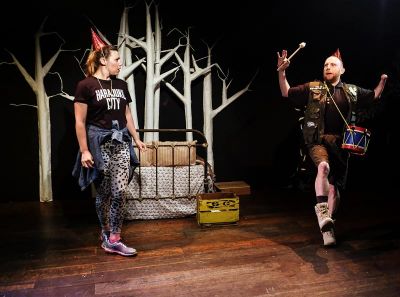 Hiding from the group and their strange pursuits, is Alice, played by Geraldine Viswanathan. Wooed away from her hiding place by the persistent Sonny, Alice tries valiantly to resist any involvement. Viswanathan finds the initial frailty and despondency of this character mixed with her determination not to become part of the confusing activities of the group – and her eventual strength.
This is an unusual play that Cathy Hunt has directed using all the creative strategies of theatre of the absurd – fast action, strong, clear characterisation, humour, a little bit of clowning and clear directorial control.
Carol Wimmer
Photographer: Clare Hawley