Directed by Scott Maidment. Ben Walsh (Musical Director), Shane Witt, Ben Lewis, Daniel Catlow, David Carberry, Jamie McDowell, Mali de Goey, Tom Thum and DJ Sampology (Sam Poggioli). Melbourne Festival and Strut & Fret Production House. Upstairs at the Forum Theatre, Flinders Street, Melbourne. 4 - 23 October, 2011.
In the grand tradition of Stomp and Tap Dogs but with generous lashings of thrillingly high-stakes, daredevil acrobatic abandon and Tom Thum's simply astonishing beatboxing, Tom Tom Crew burst into life for the opening night performance of their Melbourne Festival season.
What it lacks in big-budget showbiz polish and razzle dazzle, Tom Tom Crew more than makes up for with its genuine, eager to please, backyard/garage band aesthetic. This is no over-produced big set-piece extravaganza. Instead, the Crew's raw (almost next-door neighbourly) honesty, intoxicating smiles and personalities, passion, humour and talent comes strikingly to the fore – uniting and delighting their audience with a rare kind of high-energy performance euphoria.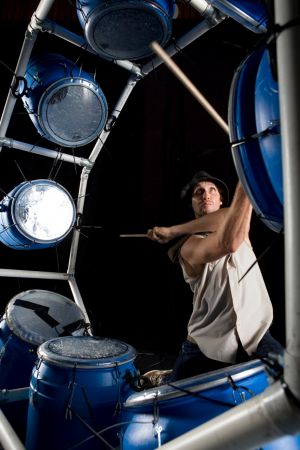 These are well-disciplined, chilled, drilled and thoroughly engaging performers – whose camaraderie from their Flying Fruit Fly Circus training ground and years on the international touring circuit (the show was born at the Adelaide Fringe Festival in 2006 before travelling to London, Edinburgh, New York, Berlin and Montreal) has resulted in a tightly-knit ensemble that both personifies and exemplifies trust, risk, loyalty and precision.
Entirely lacking in pretension, Tom Tom Crew wins points for opting to keep it real – like busking boys in a local park showing off to their captivated admirers; and in the cluttered realm of circus spectaculars, this is the essence of the Crew's theatrical torque. Trained at the famous Fruit Fly Circus, it's not difficult to join the dots between the Crew's childlike joy at tackling high-flying acrobatics with energetic leaps and bounds into flights of sheer breath-taking fantasy. Equal part circus and vaudeville, the pace rarely sags – and when it momentarily does, it is only to allow us (and them) to catch our breath.
If Ben Walsh's drumming on a seemingly impossible number of plastic barrels is a worthy, gob-smacking showstopper, nothing could have prepared us for Tom Thum's beatboxing. Rarely, in the theatre, do we find ourselves in the situation of being unable to believe either our ears or our eyes – but this boy with a microphone is a beatboxing virtuoso (and a terrifically gifted graffiti artist as witnessed in one of the show's very clever multimedia interactions). From a classic jazz set to the instantly recognisable beats and melodies of the late Michael Jackson (poignantly performed as a "tribute"), Tom Thum's contribution defies description.
This will be the hottest Melbourne Festival ticket in town. Whatever you have to do to get your hands on a ticket – do it. On opening night, the boys were entirely worthy of the unanimous and thunderous standing ovation that, in retrospect, was the very least we could bring to the party.
Geoffrey Williams
To keep up with the latest news and reviews at Stage Whispers, click here to like us on Facebook, or follow us on Twitter.