By Caryl Churchill. Director: Jenny Kemp. MTC Sumner Theatre. August 25 – September 29, 2012.
Caryl Churchill is a fine playwright and product of the early feminist movement which saw us burn our bras and risk bruised kneecaps, in a futile attempt to prove that equal meant "same". And yet Top Girls is as much an indictment of that movement as it is a vindication, and that's why it is still fresh and relevant today. We've come a long way in the pursuit of "having it all" and yet we have failed to make the generations that followed understand that there is always a price to pay, something to be sacrificed, whether it's our children or our humanity. That might not seem important in our twenties, but it may come back to haunt us with regrets in our 60s and 70s. Churchill knew that 30 years ago. We need reminding of it now more than ever.
Set in the 80s – the dizzy days of Margaret Thatcher proving a woman could be anything she chose, then the horror of the price we had to pay for beating men at their own game – the play follows the path of Marlene, newly promoted to the top job in her company, beating the man who certainly expected, if not deserved, the promotion. We see the justified excitement of a businesswoman who has broken through that over-glazed "glass ceiling". She celebrates with a dinner party for "friends." – women who have been outsiders for bucking the establishment and yet have all broken through in their own way to find Freedom and individuality, if not equality. This first act imagining, or dream, with its combination of mythical, historical and even fictional women, is the most talked about section of the play. But while it sets context, it concerns their journeys, not Marlene's, and each has its own less than happy outcome. So, courtesan turned Buddhist nun, Lady Nijo, spends half her life in sin, half in repentance, but none of it in happiness because her self absorption doesn't allow her to ever truly know herself. Pope Joan succeeds in fooling men into believing she is one of them, until she gives birth to a baby and is stoned to death for heresy. Isabella Bird, writer and traveller, only feels complete when on her own and facing adventure. Any return to home saw her become ill – yet she never recognised the symptoms were boredom and the illness was selfishness. A pioneering heroine:- Or something less admirable?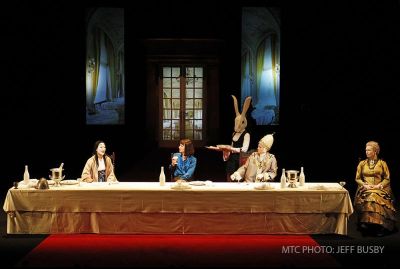 Marlene is our heroine, and she's also selfish. She hasn't learned that finding oneself doesn't have to be at the expense of losing others, denying them even. That's the exciting journey in the play. Director Jenny Kemp (how wonderful to see her work back on a major stage) takes us on that journey in exhilarating yet confronting fashion. Whilst Churchill writes heavily overlapping dialogue, Kemp choreographs it in a way that annoys yet intrigues us. We miss so much of the stories – but that's the point. Women are only ever partially heard, and often the most important part of what we have to say is lost to the ear.
The cast is outstanding – seven terrific actresses in top form under a top director. However, even within this illustrious ensemble some stars shine brighter than others.
Anita Hegh is consistently good as the hi-flyer who suppresses any emotions which might ground her, but she is most moving in the final scene where she loses the chance to "connect" with her "dumb" illegitimate daughter; portrait of a woman who has forgotten how to feel. Eryn Jean Norvill as the teenage Angie is quite wonderful. Her belief that her fabulous aunt is actually her mother (true) gives her purpose but not direction. The actress is both convincing and heartbreaking. And then there is Nikki Shiels, surely destined to take over as the Queen of the Australian stage in years to come. Her performances in three roles are perfection; one could well believe they are three different actresses. But it's as Nell that she excels. She gives us the true face of 80s capitalist based feminism, and reminds us of all the things we didn't like about it. Facetious, rapier witted, oozing newly released and realised sexuality, she struts the stage with undeniable charisma yet always looking for the truth in every line and gesture. She's awesome.
Dale Ferguson's set runs the gamut from functional to stylised – always perfect for the action. But it's the soft cloth of trees and woodlands, coupled with the leaf decaled floor and velvet cushions which evokes the true heart of the women. What could have been a downstage compromise for re-setting upstage becomes a magical glade where the women can tell their truths.
For me, this is the strongest offering that MTC has given us this season. I don't consider myself a feminist and I don't see this as a play for just a female audience. It is simply well crafted writing that is beautifully performed and directed. Can we ask more from theatre?
Coral Drouyn
Images: (top) Margaret Mills, Anita Hegh and Li-Leng Au & (lower) Li-Leng Au, Anita Hegh, Eryn Jean Norvill, Maria Theodorakis and Margaret Mills. Photographer: Jeff Busby.