By Agatha Christie and Gerald Verner. Centenary Theatre Group (CTG), Brisbane. 10 November to 1 December, 2018
The literary Queen of Crime, Agatha Christie, has also been heralded as the most successful female playwright of all time – with nearly 30 stage plays to her name. The Mousetrap holds the record as the longest-running, continuously performed show in London's West End, and CTG's Kurt A Lerps directed the Community Theatre premiere of that play. Now he tackles Christie's Towards Zero – apparently blocked to community production for some years – with ardour and aplomb.
The plot is quintessential Christie: A remote seaside setting and an odd gathering of potential victims; a plot involving marriages and infidelities, various suspects and motives (including rivalry, jealousy, revenge and money); an investigation featuring bumbling (or are they?) police inspectors and a smattering of red herrings. Part of the fun is in trying to keep up with Christie until the denouement.
CTG is an experienced group of performers, designers, stagehands and volunteers. In action since the 1970s, the group shows a dedication to a variety of plays and presents around six productions each year. Their choice of Christie is perfect for the lead up to the holiday season. Their high standards are also reflected in the attention to detail in the set design and period costumes. It is a delight to be transported back to Christie's polite 1940s on stage in such a welcoming environment.
Given the setting, Director Kurt A Lerps elicits suitable amounts of angst and humour from his cast of experienced actors. Standout performances come from Jill Brocklebank and Debra Chalmers as the elderly hostess Lady Camilla and her long-suffering assistant. Liz Best is wonderfully witty as Kay Strange, playing up the perks of being the younger second wife. She is a vibrant foil to Meg Hinselwood's quiet and oh-so-straightlaced Audrey, the first Mrs Strange.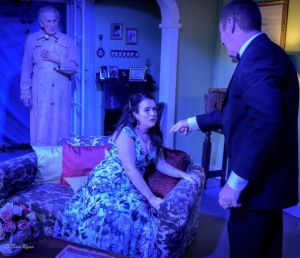 Leading the male performers, Brad Oliver has stage presence but should relax and enjoy himself more in cad mode as Nevile Strange, the sporting star. Erik deWit and Daren King are more comfortable, revelling in their roles as the young chaps (and potential love-rivals) on the 1940s thriving social scene. Brian Hinselwood adds seasoned staying power as the intelligent older guest, Matthew Treves, who may beat the plodding police to the chase, piecing together the mind of a murderer. Perhaps because he stepped in at the last minute to play Superintendent Battle, Mark Scott's Aussie accent was a bit jarring against the other perfected posh tones – or hilarious Scottish brogue, in the case of Alison Lees as Inspector Leach.
Towards Zero refers to the careful planning of a murder, converging towards zero hour – the timing of the event itself. Given this theme, there should be a bit more tension in this long play – possibly the fault of Christie's defined-act formula – but the pace is sure to pick up after opening night when the actors relax into their roles.
CTG is a friendly and vibrant community troupe based at the charming Chelmer Community Centre. With a capacity for around 100 patrons, comfy seats and a well-stocked (licensed) refreshments bar, the centre is an intimate and enjoyable alternative for those theatre lovers who don't want to travel to Brisbane's main entertainment hubs at New Farm and the South Bank. And – having taken 'the oath' to keep the conspiracy of silence – to find out who-dunnit, you will have to see 'Towards Zero' to find out for yourself.
Beth Keehn
Photographer: Dan Ryan