By Stephen Vagg. Brisbane Arts Theatre. 23 March – 20 April 2013
It's always exciting when a new play arrives and even more so when it is set locally about familiar characters.
Stephen Vagg's Trivia studies nine 30-something characters who gather weekly at a Brisbane pub to play Trivia. Each has reached the critical stage in life ─ bored with pubs, clubs and one-night stands and seeking a stable relationship with family. The central characters are Michaela (Cindy Nelson), who is recuperating from an accident in which she broke both legs, and her on-again-off-again boyfriend Gary (Damien Campagnolo) who has taken time out from his legal career to write. Their performances anchor this show securely. Their regular friends are AJ (Francesca Gasteen), Aram (Mitchell Why) and Ben (Daren King), while Natalie Ridoutt portrays four other acquaintances, Sonya, Jemma, Cassie and Nicole. Martin Wright provides the offstage voice of Quiz Master, Terry.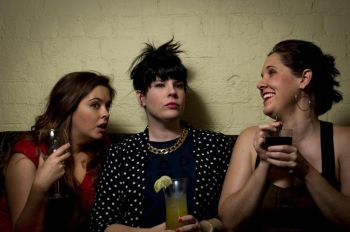 Director Ali Kerr has taken care that each actor adopts signature posturising and physical quirks of the age group. She and her actors are to be congratulated for turning a mirror on this era and bringing Vagg's dramatic vision to life. He is well attuned to the jargon of this socio-economic group. He draws for us a readily recognisable hollow and directionless group, yet I found it difficult to find sympathy for any of them. I was also disappointed with the switch in Act 2 from naturalism to fantasy.
I suspect however, that younger adult theatregoers will love this play. I applaud Arts Theatre for accepting the challenge to mount this work.
Jay McKee
Images: (top) Mitchell Why, Damien Campagnolo and Daren King & (long) Francesca Gasteen, Cindy Nelson and Natalie Ridoutt. Photographer: Greg Bartle.