By Frank Vickery. KADS. Directed by Anita Bound. KADS Town Square Theatre, Kalamunda, WA. July 19 - Aug 3, 2019
KADS have been suffering some financial pressure of late, after a third party ticket provider has absconded with the proceeds of one of their productions. It is somewhat ironic that this play, Trivial Pursuits, features an amateur operatic company in severe financial peril. The show was chosen well before KADS current woes, but I am sure that the cast could empathise with their characters' situation.
This "backstage play" of sorts is set at a backyard BBQ, where the society's director is about to announce the next production, and everyone has a vested interest in different shows. It appears that many people feel that they have been promised the leading role, and the drama offstage appears to be escalating.
A great mix of familiar and new faces in this show, with four of the cast making community theatre debuts. Peter O'Connor belied his lack of experience in the cog role of director Nick, Tony Shelsher worked hard to ensure that his role as the notoriously boring Nick had colour, Paul Larder made a promising debut as Eddie, and KADS' Youth Theatre co-ordinator Monique Lewitnicely graced their stage for the first time as society newcomer Jessica.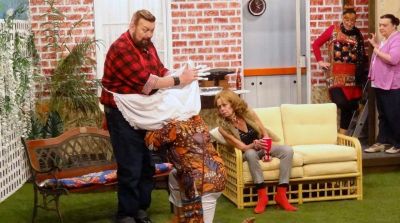 The remaining cast are KADS' favourites, with Sandra Sando convincing as Deidre, Aundraea Stevens likeable as Roz, Sarah Cambridge summoning her inner diva as choreographer Mona, Cathy Parr sweet as treasurer Pearl, Fi Livings finding comedy and pathos as alcoholic Joyce and Charlie Schirmer larger than life as divo bear Teddy.
The set, constructed by Martin Dorman and Peter Bloor, is well structured and realistic, with a clean lighting design by Mark Ramsey and sound design, featuring a musical theatre motif, was by Julie Hickling.
Trivial Pursuits is proving a very popular choice, with sell-out houses throughout the season, so hopefully the healthy box office will help KADS' bank account to recover. The capacity mid-week audience on the evening I attended were very appreciative of this theatrically themed comedy.
Kimberley Shaw