Kate Ceberano and Paul Grabowsky. Concert Hall, Queensland Performing Arts Centre (QPAC), Brisbane. 16 August 2019.
Remember hearing 'The way we were' or 'We've only just begun' for the very first time? Recapturing the magic of those original encounters would take a very special kind of performer. But you will believe it's possible if you see Kate Ceberano perform her collection of songs, TRYST, with a mere piano (played by legendary Paul Grabowsky) between her and a bare, unforgiving stage and a room full of expectant music fans. But this is not a Postmodern Jukebox reinterpretation; not a second-hand rose pastiche of singing styles – this is purely and simply Ceberano, singing from her heart. For classic songbook fans, this is the allure of first love, lovelier the second time around.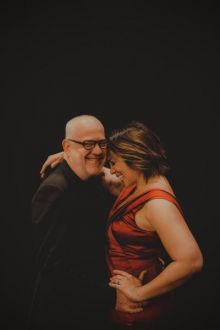 Kate Ceberano and Paul Grabowsky have been mates for many years and, fittingly, for a show that began as a St Valentine's Day gig, this is a tribute to love in all its forms, but also a celebration of their long-term friendship and creative collaboration. The performance ebbs and flows through the classic composers, including Leonard Cohen, Bob Dylan and Burt Bacharach. Ceberano talks us through her own highs and lows, revealing the pain of connecting too deeply to a love song when you've been rejected – and the heartache of discovering that your daughter believes that Adele wrote 'Make you feel my love'(!) The musical journey segues into chanteuse territory with songs made famous by Roberta Flack, Barbra Streisand, and a 60s tribute to Cilla Black. There are also some refreshing choices from the Rock songbook – 'I touch myself' by the Divinyls and Joan Armatrading's 'Love and Affection'.
Grabowsky's jazz style really heats up when the playlist meanders into a French film set and he takes Kate for a stroll through the 'Diva' soundtrack to a meeting with Edith Piaf. And the duo make seemingly spontaneous set list choices – including an encore performance of 'Over the Rainbow' – surely a song that most singers would be advised to avoid. Well, Ceberano shows she is absolutely fearless. It takes years of practice to look this effortless, with real life experiences to back up confident choices. What shines through in Ceberano's singing is not just great technique and showmanship, but also a self-belief that allows her to tackle any song – no matter how iconic and intimidating. And what more could a music fan wish for than to be privileged enough to experience such an honest performance?
Following last night's gig in Brisbane, the duo take TRYST on tour. For dates, see: https://www.kateceberano.com/tour
Beth Keehn
Photos by Natasha Curato & Pierre Baroni