By Alexa Taylor, with Jess Nyanda Moyle and Zoe Street. Directed by Alexa Taylor. The Blue Room Studio, James St, Northbridge. Sep 10 - 28, 2019
A canary in a coal mine is an advanced warning of some danger. Two Canaries, currently playing at the Blue Room, is a gentle but passionate call to action about climate change, as we are reminded about the real and imminent danger faced by the world.
Tessa Darcey's very striking set design has the actors floating on separate icebergs in water. The highly reflective surface acts as a mirror, a beautiful metaphor in its own right. The set is backed with a screen on which we see outstanding audio-visual designed by Edwin Stitt. Joe Paradise Lui's lighting design allows for some lovely visual effects.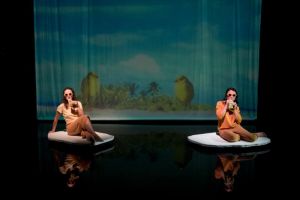 Performed in a very relaxed fashion, with an almost disarmingly casual delivery by Jess Nyanda Moyle and Zoe Street, the two are sometimes themselves, and at other times the titular canaries, Funny, clever and thoughtful, the journey exposes us to the problem of climate change while not preaching or being 'holier than thou'. Scenes as canaries are particularly charming, with Jess Nyanda Moyle's lovely whistle countered with Zoe's unique vocalisations.
Brooke Wilson provides some very moving and beautiful violin composition, and accompanies the show. There is also a brief cameo from Stage Manager, sound effects provider and technical operator, Catherine O'Donaghue.
Two Canaries has been created with thought and great passion, but delivers its message with love and gentle humour. A sweet production with great heart.
Kimberley Shaw