By Peta Brady. Griffin Theatre Company. SBW Stables Theatre, Kings Cross. July 25 – August 23, 2014
Melbourne playwright and actor Peta Brady has also spent years working as an outreach worker amongst sex workers. Her new play sharply captures that underbelly world with the same rough diamond bravado, wit and street poetry which Daniel Keene first brought to his disadvantaged characters two decades ago.
We begin in the morgue, with the Doctor (Steve Le Marquand) inspecting the corpse of a murdered Working Girl (Peta Brady), but one who won't stop talking about her life and what happened that fateful night. It's a deliciously thrilling theatrical device and, on the slab, Murphy is brilliant – full of defiant humour, impudence and sad worldliness.
Ugly mugs are those violent clients whose habits the sex workers warn each other about through a grassroots pamphlet. They need all the self-protection they can muster since in Victoria sex work on the streets is illegal. The Doctor discovers a copy in the Working Girl's Boot. Le Marquand is totally convincing as the coolly enquiring Doctor and deadly chilling later in a second role as the murdering Ugly Mug himself.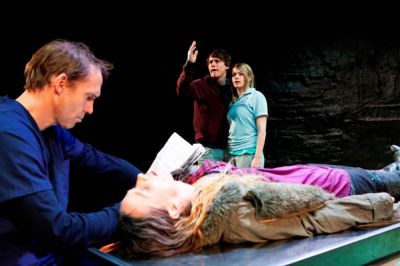 Another less successful subplot concerns a teenage boy (Harry Borland) obsessed with a footy mad girl, who tragically is next in line as another female victim. Unexplained, and leaping between future and past, the boy is incarcerated, and constantly berated by his visiting mother. Brady also plays this character which, while she delivers a similarly gritty, witty performance, adds to the confusion around this subplot. Sara West though is beguiling as another toughly independent but younger female making do in hard times.
Fresh from its Melbourne season, Malthouse Theatre's Marion Potts directs a sparse, truthful if confusing production. It's a credit to Brady's performance and her authorial empathy for this world, if not her dramatic storytelling, that Ugly Mugs can be so moving. On the tiny Stables space, designer Michael Hankin delivers fine character-appropriate costuming and a sparsely brutal space, lit with cold neons by Lucy Birkinshaw.
Martin Portus
Images: Steve Le Marquand and Peta Brady & Steve le Marquand, Peta Brady, Harry Borland and Sara West. Photographer: Brett Boardman.