By Marius Von Mayenburg. Griffin Theatre, Sydney. Director: Sarah Giles. November 23 – December 17, 2011
This brisk, brief 4-hander by rising German dramatist Marius Von Mayenburg has been a striking world-wide success, with multiple productions in Europe and, starting at the Melbourne Theatre Company's Lawler Studio last year, seasons planned round Australia. Sydney's Griffin Theatre version shows why. Full of black absurdist comedy, The Ugly One explores our current obsession with beauty and packaging at the expense of content. Experimental in style and excellently anglicised (translator uncredited in the program), it's funny, wide-ranging and thought-provoking.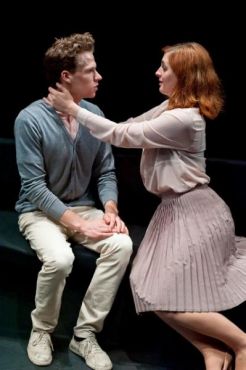 Our hero Lette (Eden Falk) has invented the new 2CK Connector but his boss (Jo Turner) won't let him present it to a trade conference because, well, sorry, he's just too ugly. This is news to Lette, but his wretched ugliness is confirmed by his otherwise doting wife (Jacinta Acevski). He is talked into undergoing major facial surgery in a scene of hilarious, squirm-making action accompanied by live sound effects from fourth actor Gig Clarke.
Now dazzlingly handsome, Lette gets the conference gig, the attention of salivating women and a downgrading of his business activities: now he's so good-looking he looses all credibility as a thinker.
Under Sarah Giles' whip-crack direction, the actors play extra parts, swapping roles in an instant: Acevski impressively switches back and forth, often within a sentence, from confused young wife to randy, much-renovated 73-year-old socialite.
The Griffin audience showed its appreciation but was soon heading out into the Kings Cross night at the end of this over-too-early 50 minute production.
Frank Hatherley
Images (From top): Gig Clarke, Jo Turner and Eden Falk; Gig Clarke and Jacinta Acevski; Gig Clarke and Eden Falk & Jacinta Acevski, Eden Falk and Gig Clarkein The Ugly One. Photographer: Patrick Boland.
To keep up with the latest news and reviews at Stage Whispers, click here to like us on Facebook, or follow us on Twitter.