Written by Anton Chekhov. Directed by Michael Beh. Presented by The Curators. Magda Community Arts, Bardon Qld. 18 August – 2 September, 2017
On a windswept evening in Bardon in a lovely, intimate venue, a small independent troupe called 'The Curators' performed Uncle Vanya. Chekhov's work was appreciated by a supportive opening night crowd that clearly enjoyed the script's existential ennui, unrequited love and dark humour.
The first independent production of Uncle Vanya that Brisbane's seen in 86 years seemed perfectly suited to the frosty night. That wasn't the only reason this 120-year-old play resonated with the crowd. Perhaps more than ever before, its themes of equality for the sexes, the plight of the working man who slaves away to keep the rich in a lavish lifestyle, and the destruction of the environment and climate are painfully relevant.
While the pacing could have been a little tighter, overall the play's direction was very clever. Michael Beh had drawn some lovely work out of his cast and crew. There were some beautiful tableaus and moments where one was aware of the actions and reactions of all eight actors onstage without the scene suffering from split focus. His most mesmerising choice, however, was the seasonal transitions in the play. Beh's whimsy, heart and poetry as a director shone through in those moments most of all.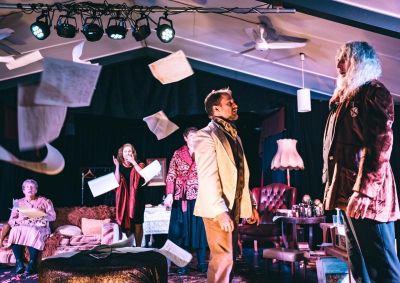 Lighting by Emily Allen and Sound Design by Peter Crees were both strikingly good. The fight scenes were exciting and convincingly executed. It was a little hard to tell which period the play had been set, due to a few costume and set design choices. The overall vibe seemed to be that of the 1930s or 1940s, but there were a few anachronisms. Some of the casting too seemed a little incongruous, with some performers quite a bit out of the right age ranges. Fortunately, the acting skill made up for that small dissonance.
The standard of acting was very high. On the whole they were realistic and committed to the naturalism. Occasionally one or two did slip into some unrestrained territory, but every one of the actors had superb moments of believability. It was obvious a lot of hard work and passion had gone into the pre-production phase of Uncle Vanya. The Curators showed one doesn't need a budget in the thousands to put on a great quality production.
Kiesten McCauley
Images: Bec Taylor Photography