Written and staged by Geoff Paine with Ross Daniels. MICF. Chapel Off Chapel (Vic). Until April 12 - 29, 2012.
The Melbourne International Comedy Festival is such a moveable feast that, like good Chinese food, you devour the flavours but are always hungry for more. And while some offerings are easily forgotten once the taste has gone, some linger on the palate and you know your appetite is completely satisfied.
Unpack This is one such offering. More than a cabaret, not quite a play (yet) the piece is based on Geoff Paine's own personal experience of being ordered by the court to attend a "Men's Anger Management" counselling session, after head-butting (is there anything more bogan?) a neighbour. The experience was such that Geoff knew all he had to do was observe, and there was a show in the making – which in fact is what one of the characters confronts him with, after recognising him as a former "Neighbours" star.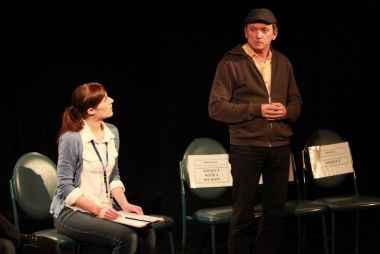 The setting is simple – 6 chairs for the offenders, and two for the counsellors, plus a white board. With Paine playing 3 characters, and the versatile Ross Daniels, best known to most for his great improvised work in "Spontaneous Broadway" playing the other three, the staging is impeccably timed, with both actors sliding to an adjacent seat and another character with flawless ease. The characters are archetypes rather than stereotypes and each has a rich story to tell. These stories, as well as the characters, are both funny and poignant. There's Nguyen, a Vietnamese migrant trying to do the right thing but who can barely make himself understood (Paine); Bogdan (Daniels) a young, uneducated, homophobic hood who can't see what the problem is; Nicholas (beautifully played by Paine) a bogan who thinks his Dad is a hero because, in spite of stabbing his mother, he didn't beat her every day; Brian, a bewildered cuckolded husband whom Daniels plays for the pathos and still gets laughs; and Reginald, an old pensioner whom time has forgotten, who just wants ONE parking space for his car - another poignant character whom Daniels brings to life beautifully. Then there's Geoff himself – the least successful of the "characters" perhaps because he is an observer, not truly a participant. Accepting responsibility for his violent act, and the counselling session as his punishment, he leaves himself nowhere to go as an actor, and perhaps should take more dramatic license with himself. The two counsellors are well played by Syd Brisbane and Michelle Nussey. Excellent performances but Brisbane's Trevor is the most complex of all: A man of pent-up rage and a façade of smiling homilies. We know he's going to explode…we just don't know when or how and, despite the rage, we can't help but feel sorry for him.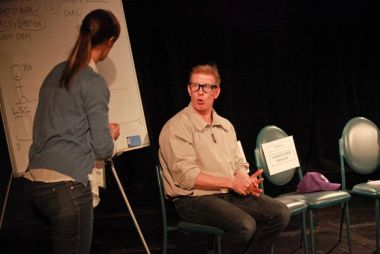 Unpack This is uniformly well performed and staged and deserves a life long beyond the MICF. It's good theatre and accessible to everyone. Chapel off Chapel, with its eclectic welcoming atmosphere, is the perfect venue for pieces like this that are not experimental enough for "alternative venues" nor mainstream enough for more commercial theatres. Fortunately Unpack This has a decent length run, so it will reach a much wider audience than some of the equally entertaining productions I have seen there. See it if you possibly can – you won't regret it. And be prepared to laugh, be moved, and even feel uncomfortable during this exploration of the weakness in all of us.
Coral Drouyn