Music and Lyrics by Mark Hollman, Book and Lyrics by Greg Kotis. Melville Theatre (WA).Directed by Craig Griffen. 6-21 July, 2018
Urinetown is not your conventional, happy musical (as you are informed several times during the show). Dark, bizarre and having a dreadful title, it is more than a little different. Melville Theatre's latest production is playing to full houses who are delighted with this odd, but well-presented show.
Set during a drought, where people are being forced to play exorbitant sums to use public amenities, people who try to "pee for free" are being "shipped off" to the mysterious "Urinetown", never to be heard from again.
Director Craig Griffen has designed a fascinating set that is moved by the cast to create various locales. The most stunning element is a false proscenium made up of more than 700 toilet rolls - a feature used to great effect. Craig Griffen also designed the costumes, co-designed the lighting (with actor Daniel Burton) and acted as choreographer - providing some quirky and effective dance moves.
Musical Director Taui Pinker conducted a hidden 5 piece band, who played well from presumably cramped quarters somewhere in the vicinity. Singing was strong throughout, although occasionally it was difficult to hear dialogue, especially with underscoring.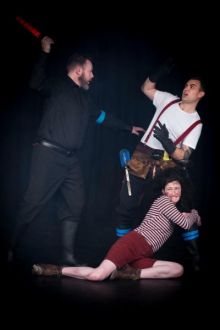 Playing with a cast of just twelve, there is lots of doubling, with innumerable quick changes that are done with precision. A very hard-working ensemble attack the show with great energy.
Bert Goldsmith plays local law enforcer Officer Lockstock, who also provides a slightly cynical, very self-aware, and very funny narration. He works beautifully with Erin Craddock - a delightful Little Sally, an urchin with attitude.
Hero of the show is Bobby Strong, who was played in a very impressive Musical Theatre debut by Kai Thorpe. Grace Johnson makes a beautiful leading lady as Hope Cladwell.
Daniel Burton appears to relish playing villainous Caldwell B. Cladwell as well as a great appearance as rebellious Joseph Strong. He is well-supported by Harry Stacey as a flamboyant Mr. McQueen and Ellie Hart making a welcome return to the stage as Senator Fipp (among other roles).
Shanee Osborne brings a gorgeous voice to her first community theatre role as Penelope Pennywise, which possibly makes up for the fact that she is clearly too young for the role.
Strong performances from Emily Semple, with a lovely recurring line, Liam Gobbert, who shares a great entrance with Ellie Hart in Act 2, and Audrey Hall. Laurene Coller makes her stage debut as a really awkward and likeable Josephine Strong.
Urinetown is not a "nice" musical but it is a very funny one - especially if you like shows that are more than a little dark. Tickets may be hard to come by, given the opening night sell-out and warm response, so I recommend booking as soon as possible.
Kimberley Shaw