By Carly Wijs (Belgium). Adelaide Festival 2018. Bronks / Richard Jordan Productions / Theatre Royal, Plymouth, Big In Belgium. Space Theatre, Adelaide Festival Centre. 8 - 12 March, 2018
Carly Wijs' Us/Them from the Belgium youth theatre company BRONKS is based on the Belsan school siege in Russia in 2004.
Two young actors enter onto an open stage with a large green chalkboard up-stage, a large bunch of helium-filled black balloons, with six steel pillars marking the performance area. The young actors are playing two ten-year-old children who were involved in the Belsan school siege.
On their hands and knees, and muttering competitively to one another, they quickly proceed to mark up with chalk on the floor the essential ground plan of the Belsan school. They then address the audience, talking about Belsan, the school, and the event leading up to the moment when the terrorists arrived and captured over 1,000 people, mostly children between the ages of 2 and 10.
When the terrorists arrive the chaos of the moment is caught with the vocal narrative overwhelmed by music, the emphasis and narrative becoming essentially physically based. Those who are captured are placed within the suffocating school gymnasium.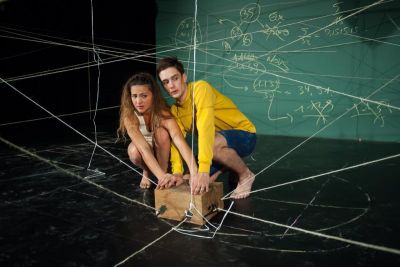 The young actors then fill the stage, above and below, with lines of thin white rope, creating a kind of massive web. This is to emulate the complex system of wires and bombs that the terrorists used in the Belsan school siege; the black balloons representing the bombs. Eventually these all explode in the terrifying and tragic climax of the siege.
This provides the basic narrative to this one-hour dramatic recreation of an historical event. However, there is a complexity to this narrative involving truth and illusion, hope and despair. This is primarily revealed through the spoken narratives of the two children, a story that is not always true, but what they hoped could happen. Furthermore, the final scenes involve a critique on how the foreign media sentimentalised this tragedy.
All this is done with marvelous simplicity, riveting and powerfully performed by the two talented and highly skilled young actors, Gytha Parmentier and Roman Van Houtven.
What is remarkable about this production is that it is all told through the non-judgmental gaze of ten-year-old children. There is no bitterness, no anger, no psychological realism. As Carly Wijs writes in her program notes, 'As adults we are conditioned by our overly dramatic perspective, by the media, by ourselves, into black and white thinking: "Us" verses 'Them". The refreshing thing about a child's gaze is that it is not coloured by the need for dramatic interpretation, because that view of things does not connect to their own life. It is tackled through imagination. That is what Us/Them is about.'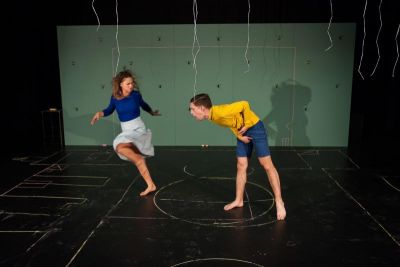 Believe it or not, this is a play for children. It is perhaps the most brilliant, sophisticated and enlightening piece of children's/youth theatre I have ever seen.
Carly Wijs states, 'Isn't it taboo to make a piece of theatre about terrorism, for audiences that include children? Ultimately, no subject should be taboo for children. It is just important that you use the right words. Discussing the topic of terrorism with children is a challenge, but it can and must be done.'
Whilst some may argue this point of 'no subject should be taboo for children', nonetheless, considering the recent school shooting in Florida, children are involved, and have the right to question in this highly contemporary matter.
I thoroughly recommend this wonderful production – for children as well as adults, parents and teachers.
Tony Knight