By Terence Rattigan. The Stirling Players. Stirling Community Theatre. 19 February– 5 March 2016.
Terence Rattigan was lauded in his heyday for using understated emotion in his devastatingly accurate plays about the emotional damage wrought by self-denial. Yet reviews slammed his Variation on a Theme when John Gielgud produced the play's premiere in 1958. Critics believed then that Rattigan had lost his touch in this play and focused too much on the new trend for sexual frankness.
Variation on a Theme wasn't revived professionally until 2014, with the resultant British production also achieving mixed reviews.
That Adelaide company The Stirling Players is prepared to stage the controversial play's Australian premiere says much for the company's confidence in local Director Dave Simms. It's a decision they can be comfortable with because, as far as I can recall, Simms has never directed a flop and has a knack of winning theatre awards.
Stirling's faith in Simms has been rewarded with a fine production of Variation on a Theme, even if the underlying issues in Rattigan's writing of the play will remain for some in the audience.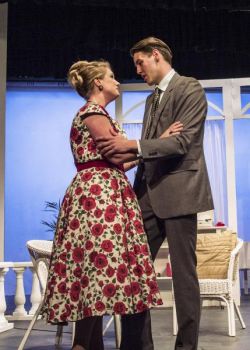 Fragile emotions struggle to survive in this tale of financial riches, drinking, gambling, shallow relationships, suppressed sexuality and failing health. Originally from poor English beginnings, Rose has trawled her way through various marriages, has a teenage daughter and now lives a socialite's life in the south of France, relying on rich men for money. Rose has tuberculosis, yet will not curb her excesses, despite the cautionary advice of her paid companion Hettie. When Rose begins a relationship with much younger Ron, who is a 'ballet boy' and from the other side of the tracks like Rose herself, she may well destroy both his career and her own future.
The role of Rose is very demanding but Allison Scharber performs it well. I would like to see a little more underlying fragility in Rose, but this is still an excellent interpretation. Nick Duddy's performance as Ron the dancer is also good as the character struggles with his decisions and fluctuating feelings.
Alan Crawford is superb as Sam and lifts the pace of the production in his second act scenes. The poignancy of his performance as Ron's choreographer and friend, a gay man who has to bear the realities of Tom's true character, shines through and one wishes more had been included about this relationship in the writing.
Julie Quick is wonderful as Rose's companion Hettie. Her understated performance is very fine as she embodies Hettie's quiet desperation at Rose's reckless behavior.
Jonathan Pheasant produces a strong performance as Rose's rich and controlling prospective husband Kurt.
Kate van der Horst is delightful as Rose's emotionally estranged daughter Fiona, though could perhaps develop the character's emotional remoteness from her mother more.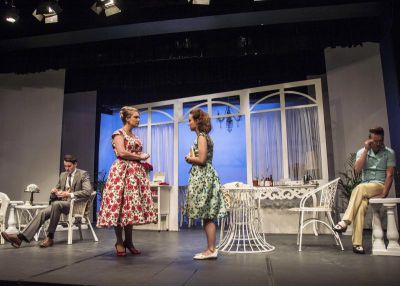 Rebecca Kemp is very good and highly amusing as the spoiled and shallow American socialite Mona.
Jakob Maddocks, Jane Bleby and Peter Bleby do well in small but important roles.
Stirling has excelled once again with the show's set, lighting, sound and superb costumes.
In terms of the play's writing, there are times when it shines, particularly in the second act, but the wordy interactions between Rose and her lovers in the first act are sometimes tedious and one begins to wonder where the play is heading. However, other interpersonal relationships are deftly written, including between Rose and Hettie and Rose and Sam and here the play has strong impact.
Stirling Players' overall production of Variation on a Theme is excellent, despite the play's inherent flaws. By the time the unpredictable plot reaches its conclusion everyone in the audience has experienced fine acting and a top level community theatre experience.
Lesley Reed
Photographer: Norman Caddick