By Nick Enright and Terence Clarke. New Theatre, Newtown (NSW). November 13 – December 15, 2012.
There's a zippy band, strong voices, good harmony! There are zany characters, white faces, colourful costumes, quirky choreography, a bit of slapstick, a few pratfalls and fast scene changes! In fact, there are all the components of a good musical and good commedia. Perhaps a 'musical commedia'?
Sean Minahan's set suggests the iterant nature of the original commedia – hessian curtains form a proscenium and a harlequin diamond scrim almost hides the band. Mathew Marshall uses yellow washes of light that suggest an open air performance. With this as background, director Mackenzie Steele and musical director Mark Chamberlain have created a production that is a happy credit to Nick Enright's clever dialogue and lyrics, and Terence Clarke's foot tapping tunes.
Zac Jardine (Arlecchino) and Andy Johnston (Lelio) whizz large mirrors on wheels around the stage in the opening number (Twins), turning them to reveal larger-than-life portraits clearly establishing Jay James-Moody as the twins, Tonio and Zanetto. The pace and tone is set – and doesn't let up as Rosina (Meagan Caratti) and Colombina (Debra Bryan) primp and pose in true commedia style to begin this rollicking version of Goldoni's well known and oft' adapted play.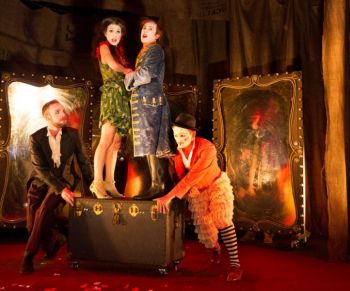 There is a real sense of ensemble in this production. Everyone, including the audience, is having fun. But this doesn't happen without strong direction, meticulous rehearsal and a talented and experienced cast.
Jay James-Moody plays both twins with apparently consummate ease. Each twin – country bumpkin Zanetto and suave, sophisticated Tonio – is clear and artfully sustained, despite quick character changes after exhausting song and dance routines. A costume change problem on opening night, involving the lining of a coat sleeve, only served to show his skill in improvised ad lib … and the audience loved it!
As the villain, Pancrazio, Dean Vince is elegantly sleazy. Tall, lithe, light on his feet, he oozes through Hiss the Villain, eyes flashing, hands wringing, long legs gliding. Carefully controlled, his sinister sneers and graceful posturing pull the audience under his spell. His is a compelling stage presence.
Just as compelling – but in true, comic, zanni style – is Stephen Anderson who plays Florindo, one of the would-be competitors for the love Beatrice, his friend Tonio's fiancée. Anderson's strong, clear voice is a real asset to the production, and his physicality and command of the stage, and the audience, make the very most of this character.
Marissa-Clare Berzins is the much-sought-after Beatrice. Wrapped at first in green satin, then in green mini skirt, her elegant legs bare, she moves from contrived elegance to crazed jealousy. Her operatic voice hits higher and higher notes as she sings Ah perfidy! Ah faithless lover, writhing around the stage apron as electric fans blow her white shawl and long hair in an artful bit of creative fun.
Andy Jonston is a sadly comic Lelio – and a busy support cast member. He is very light on his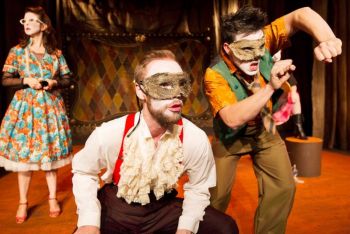 feet and clever at commedia pose and pratfall – but his sweet singing voice is sometimes not picked up by the overhead mikes.
As the servants, Zac Jardine and Debra Bryan are funny and expressive, contrasting well with the prancing, pontificating Judge, a Pantalone-Dottore combination played by Peter Flett, and the whining, petulant character that Meagan Caretti creates as his daughter Rosina.
As individuals, they are all strong. As an ensemble they are even stronger – no more so than supporting Zanetto in Jindyworoback and in the finale reprise of Twins.
If the response from the audience is anything to go by, this should be a popular run for The New – and it's always good to see an Australian musical on the billboard!
Carol Wimmer.
Photographer: Bob Seary.