Queensland Performing Arts Centre (QPAC), Cremorne Theatre, 19 to 23 December, 2017
Some families do charity work together for Christmas; others fire up the barbie and break out the backyard cricket. The Kransky Sisters gather in their Esk homestead's lonely lounge room and sing songs. It helps to distract them from the disappointment of realising that Santa has bypassed their house yet again. Middle sibling Eve must also deal with the added frustration of knowing that her recurring wish-list item – a husband – will inevitably be crossed off by one of her sisters.
The siblings' musical instruments underline their personalities – Mourne, the elder sister and definitely the 'ringleader', takes up lead guitar; Eve is on retro 60s keyboard and wistful musical saw; the youngest, half-sister Dawn – allowed to visit from her laundry room across the road – brings her trombone and, like Harpo Marx, finds the soul of her wit in brevity.
The quirky personas, kooky musical choices, deadpan comedy and offbeat instrument selection – add tambourines, toilet brush, pasta strainer, biscuit tin and car keys to the mix – mask a sophisticated talent for musical arrangement. And the two-hour, non-stop performance (including tea-towel merchandise signing and apple-on-toothpicks after the gig) is a showcase of superb acting ability from Kranksy alter egos, Annie Lee, Christine Johnston and Carolyn Johns.
What works so well as short snippets for sketch comedy expands effortlessly with family stories, memories and conversation. The space allows room for more subtle hints at the slightly creepy back story involving missing parents, sibling rivalry, lost love and growing up in an isolated country town. The Kransky name and family saga perfectly evoking the Germanic upbringing and Gothic streak of gloom pervading life in small-town Queensland.
The show's structure – including very funny audience participation and the odd Christmas sing-along – isn't just a random selection of obscure takes on current and classic songs. It's a carefully chosen playlist of musical pieces that help to tell the sisters' story. It would mean stepping into spoiler-alert territory to mention too many tracks – the delight is in hearing the Kransky's interpretation and trying to name the tune before it becomes apparent. But if I tell you that the sisters once rented out their spare room to a Swedish tourist and tried to make her feel at home by singing her Swedish 'folk songs' I think you can guess at least one featured artist.
The combination of stories and musical mash-ups – and Xmash-ups! – paint vivid scenarios that need no props (although the looping slideshow at the start is hilarious and perfectly sets the scene without eating into show time. And you can't argue with a few Christmas decorations, including a drooping tree and hand-painted chokos hanging from the ceiling).
When the sisters drive their Swedish lodger to Gatton, with the promise of entertainment at a local nightclub, their reimagined radio playlist is a genius mix of unexpected delights. Another visitor to the Esk homestead is creeped out by their nightly lullaby of Simon and Garfunkel's 'Sounds of Silence' that brilliantly and scarily, morphs into Michael Jackson's 'Thriller'.
I've decided to start my own Christmas tradition – I think I'll go and see A Very Kransky Christmas every year!
If you are suffering from Christmas anxiety, you should see the Kransky Sisters as soon as possible. But ladies, waterproof mascara is recommended as I can't guarantee that there won't be tears of laughter. And, gentlemen, if the thought of a little audience participation hits your panic button, I'd avoid eye contact with the sisters lest they single you out for one of their 'special' musical numbers. Oh, and don't leave the auditorium too soon after curtain call – a surprise segment will leave you laughing all the way home – and all the way through Christmas.
A Very Kransky Christmasis showing at QPAC's Cremorne Theatre from 19 to 23 December – but every show is already sold out – so you'll have to talk to QPAC about returns or put the Kransky's on Santa's wish list for next year!
Merry Christmas everyone!
Beth Keehn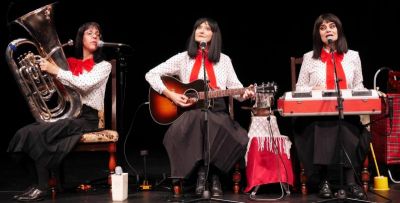 Seymour Centre, Sydney. December 9 - 10, 2017
You might remember the Aussie comedy trio Annie Lee (Mourne), Christine Johnston (Eve) and Carolyn Johns (Dawn) from their regular performances on Siberia Tonight, The Sideshow and Spicks and Specks earlier this century. The sisters have taken a break from listening to the wireless and eating apple slices on toothpicks to share their Christmas traditions with Australia.
The show opens with a slideshow of the sisters' road trip so far. Their encounters with the local wildlife and pub food delicacies had the audience roaring before the performers had even stepped on the stage, setting the tone for a great night of entertainment. Lee, Johnston, and Johns handle the audience masterfully. Those who hear the words 'audience participation' and brace themselves fearfully have nothing to worry about - you're in safe hands with these three performers. They are fully invested in these bizarre and yet very human characters.
Not only are Lee, Johnston and Johns excellent comedians and improvisors, they're also incredibly talented musically, playing an array of instruments each and delivering spot on vocal harmonies. Impressive use of household objects such as the toilet brush, spaghetti server and kitchen tongs adds to the bizarre, macabre world of The Kransky Sisters. Their interpretation of Santa Claus Is Coming To Town will haunt your memories and ensure you never hear the song the same way again.
It isn't all Christmas music you'll hear - while their version of Deck The Halls is frankly a much livelier update to what generally fills the shopping centres at this time of year, some of the standout numbers were Daft Punk's Get Lucky, Gotye's Somebody That I Used To Know, andEnya's Orinoco Flow (aka the 'sail away' song). And certainly a highlight of the evening was Dawn's 'uplifting' tuba solo. It's safe to say the Australian comedy scene can always do with more tuba solos.
The Kransky Sisters have a few stops left on their tour - they'll be travelling to Nowra, Canberra, Adelaide, and South Brisbane before the year ends.
Jessica Lovelace