Music Jeanine Tesori. Music and lyrics by Brian Crawley. Blue Saint Productions. Directed by Mitchel Butel. Chapel off Chapel. March 3 – 20, 2016
That rarest of creatures - an intelligent, perfectly formed, sublime musical with something profound and uplifting to say - is as rare as the wildflower its heroine is named after. And yet (after years of waiting for some of us Musical Theatre Tragics), here it is at the beautifully refurbished Chapel off Chapel, with the acclaimed award winning production from Blue Saint Productions, and we are all the better for it.
I first read Doris Betts' story The Ugliest Pilgrim (along with Beasts of the Southern Wild) in 1974, though it is set ten years earlier. The idea of "Beauty" (and ugliness) being in the eye of the beholder was not new when Betts wrote the story, but it does foreshadow the current obsession with physical looks, and reinforces a spiritual belief that our inner beauty overcomes any physical defect and shines for those who choose to see its light.
Thus Violet, badly scarred from an accident with an axe, makes her pilgrimage to see a television faith healer, unaware of the effect she is having on the people she encounters. When she believes she is changed, she starts to see herself as those with true vision see her, and realise that she doesn't need a miracle to love herself, and be loved by others.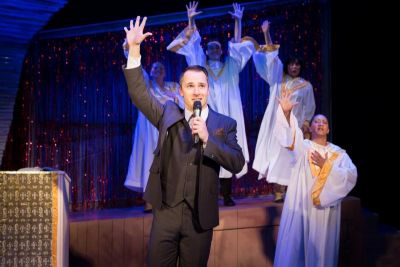 Though the production and budget are small, excellence doesn't have a price tag, and the show's collective heart fills the theatre and beyond.
Mitchell Butel, himself a consummate performer, makes his own pilgrimage as a director in search of excellence, and never once stumbles on stony ground on the way to the summit. His vision for the show is perfect. His blocking, aesthetic, and handling of story are all indicative of an actor who understands that all truth comes from within, and he has cast with that firmly in mind.
A special show needs a special cast, and this ensemble is quite marvellous. Sam Dodemaide is sublime as Violet. A very pretty girl, she makes Violet scarred and plain without the aid of any prosthetics or makeup, and blossoms, like the violets hidden in rocks do, to dazzle us in the final scene. She sings beautifully and reduces us to tears with her vulnerability. Violet is a role which requires fearless acting, and she masters that too. As her younger self, Luisa Scrofani is a revelation. This is her professional debut, but we will see and hear a lot more of her in the future. Butel mostly sets her upstage and to the audience's right of adult Violet, cleverly triggering a right brain or creative response to a character that is part memory, part fantasy. We identify with her immediately and Butel and choreographer Amy Campbell (whose work in this is exemplary) have the two perfectly duplicate – not mirror – each others movements. Between them they create theatrical magic.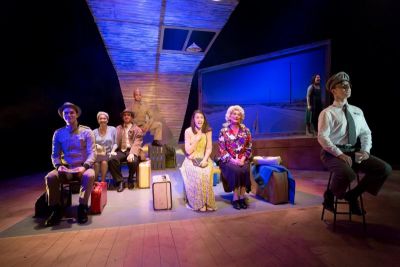 Damien Bermingham is a mountain of a man, yet, as Violet's father, he is both powerful and heartbreaking, wracked with guilt and pride, and that magnificent voice holds us in thrall. This time Butel sets him mainly to the audience's left…the logical, reasoning side of the brain, as we try to understand why he left his daughter scarred, both internally and externally.
Deirdre Rubinstein – she of more talent, timing, presence and charisma than is decent in one performer – almost steals the show in her two roles. The two soldiers, who befriend Violet on her journey, are beautifully measured characters while appearing at first evaluation to be underwritten. Steve Danielsen lets us see the insecurity in the brash Monty, and Barry Conrad is appealing as the Negro sergeant who alone understands Violet's pain in being judged and shunned. Cherine Peck gives the great Aretha a run for her money as Gospel singer Lula and is a forceful presence as Almeta, the landlady with her own prejudices. Jordan Pollard has his tap shoes firmly locked away and instead bedazzles us with his charismatic preacher and an idiosyncratic bus driver. Katie Elle Reeve triumphs as the Music Hall Singer and Jack O'Riley and Ryan Gonzalez bring great characterisations and strong singing and dancing to a variety of roles.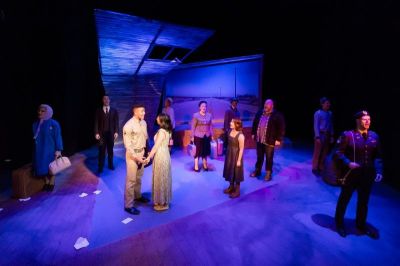 The highly talented Martine Wengrow is Musical Director of a beautifully balanced band. She and they play the wonderfully offbeat gospel/blues/country score of Tesori with real passion and commitment, and never a wrong note.
Simon Greer's excellent set uses perspective to make the small spaces seem large, and the road stretch on forever; Ross Graham's lighting design is atmospheric but understated and Kelvin Gedye's sound design achieves the level of excellence of the entire production. Lucetta Stapleton's costumes are so authentic and well conceived, that they almost go un-noticed. That's true class.
I have always loved violets and wish I could give armfuls of the flowers to Blue Saint – to Damien and Josh Robson, the producers. An independent company with no funding whatsoever, they have given us, with their first full production, not just a show but a night of theatrical magic.
Coral Drouyn
Photographer: Ben Fon
Relate reading