By John Harrison, Constantine Costi and Michael Costi. bAKEHOUSE. KXT - Kings Cross Theatre. February 7 - 17, 2018.
Through dimly lit stairways and passages chillingly lined with black plastic, groups of twenty triaged 'patients' are led into the dreamy, delusionary miasma and hazy treatment wards of an off-the-grid sanatorium. Here, led by an obsessive clinician known only as The Doctor, a team of eccentric medical recruits ghoulishly prepare to share some unconventional therapies based on bizarre research and questionable experiments.
This 'new, improved' formula of their 2016 box office success, Visiting Hours, is yet another example of bAKEHOUSE theatre's commitment to new ideas and unconventional theatrical experiences. Based obviously on his sharp insight and personal experience of the vagary and caprice of the medical profession, John Harrison has joined with Costantine and Michael Costi to create an immersive experience that is both dramatically, and surgically, theatrical!
Usually hidden rooms and quirky corners of the historic King's Cross Hotel*, have been transformed by designer Anna Gardiner into a dislocating suite of 'wards'. Some are clinically austere, some weirdly cosy, all are somewhat unsettling. Smoky and moodily lit by Benjamin Brockman, their unnerving atmosphere is further creepily enhanced by sound designer Tegan Nichols.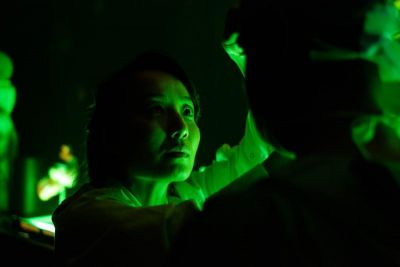 With producers Suzanne Millar and Andrew McMartin, Harrison and Michael Dean direct over 20 actors, singers and musicians to become the weird – and increasingly self-medicated – emotionally unbalanced health workers in this multi-faceted establishment. 'Patients' are led into hazily-lit rooms where compulsory 'medication' is administered and the dreamy notes of the Off-Duty Nurses Orchestra eventually introduce a woman who tells how she was 'cured' by an injection of a special distillation developed by The Doctor. Her eventual dependence on an infusion of that distillation is just one of the medical implications and inferences that hover above the theatre of this production.
To say any more will give too much away for the 'sell out' that bAKEHOUSE has already secured for Visiting Hours over the next two weeks. Several groups of 'patients' every night will tread the 100-year-old boards of the five storey Kings Cross Hotel in a production that is a striking example of the creative teamwork that is the mainstay of theatre … and an insight into the mind of a medico who practices equally successfully in two different types of theatre.
*Check out the amazing history of the KX Hotel on Violet Tingle's mydarlingdarlinghurst.blogspot.com.au
Carol Wimmer
Photographer: Clare Hawley / Asparay Photographics