By Jeff Baron. Centenary Theatre Group Inc. (Qld). March 5 – 27, 2011.
At times it is difficult to discriminate between professional and community/amateur theatre. This production ─ a Queensland premiere ─ is a case in point.
I couldn't avoid the parallels with The King's Speech: both have eminently forgettable titles yet both are tours de force for two male actors ─ strong engaging characters caught up in personal dramas with which we (the audience) empathise instantly. And both prove sterling entertainment because we leave the theatre provoked yet fulfilled.
Initial credit in this case, is playwright Jeff Baron's for his lean but effective writing and strong characterisations. Master-director Gary O'Neil has long been recognised for shrewd casting and getting the best from his actors.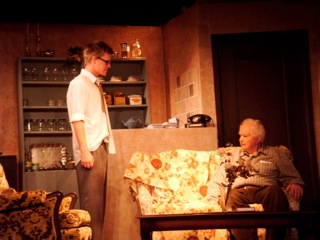 Those actors did him, and themselves, proud: Brian Cannon as Mr Green, an irascible conservative octogenarian Jew; and Stephen Quinn as Ross Gardiner, a modern Jew in his mid-twenties and the regular visitor as required by law. Divided by two generations but connected by the Jewish ethos their initial animosity morphs into mutual respect and ultimately a sense of family.
What is the play about? I could tell you in two phrases, but that would destroy your surprise and pleasure of discovery at the heart of the piece, those elements that 'suck us in' if you'll pardon the vernacular.
This intimate theatre is ideal for Visiting Mr Green. Just go, you'll come out a better person for the experience.
Jay McKee