By Jeff Baron. Pymble Players. February 15 – March 11, 2017
This delightful two-hander has been produced around the world since 1996. It's tender yet thought provoking, and its messages lose none of their impact despite the twenty years of 'progress' since it was first performed.
Director Catherine Potter was "drawn to Jeff Baron's plays because of the intimacy of his work. In Visiting Mr Green he introduces us to two disparate characters, both isolated and both hiding a secret". She translates that intimacy into a production that is warm and intensely personal, gently exposing all the underlying complexities of the characters and the secrets that they hide.
Ross is a young Harvard graduate who is doing well. Mr Green is a crusty old Jewish widower, living alone in a New York tenement. Ross almost hit Mr Green as he was crossing a busy street. His 'visits' are a community service based upon the near accident. He wasn't really in the wrong – and Mr Green doesn't really want him around. But Ross persists, and thus develops a strangely poignant relationship that allows both characters to lower their defences.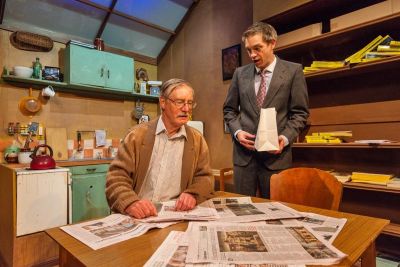 Dave Kirkham is a suitably crabby and reclusive Mr Green. With his usual height and energy reduced by a stooped back and sluggish, deliberate movement, his Mr Green is convincingly timeworn. His deft and measured delivery of cleverly written lines finds the idiosyncratic phrasing that determines the background of his character. As his relationship with Ross develops, his reticence is replaced with deeper and more immediate reactions.
Ross is a confident young executive. He's not particularly happy with the task he has been given, but he's determined to complete it with his usual resolve. Daniel Ferris finds all this in his portrayal of Ross. Much more importantly, he finds as well the innate compassion and understanding that is central to this character and the hurt that is hidden beneath his apparent self-assurance.
Mr Green's apartment is compact and untidy. Designed by Jennifer Willison, it allows for both the distance and the intimacy demanded by the script and by Potter's carefully judged perception of the characters, the poignant changes in their relationship and the moving effect they will have on the audience.
Carol Wimmer
Images: Des Harris / The Picture Desk