By Eddie Perfect. Melbourne Theatre Company. Southbank Theatre, The Sumner. 18 November – 23 December 2017
Eddie Perfect's musical is an adventurous romp, a satire on the obsession with 'owning your own home' in the overheated property market. In the show's dystopian future, there are 'owners' areas' complete with armed guards to keep the renter riff-raff out. But the show is also a satire about satire. Just what is satire? Is it necessary? Empowering? And can it save the world?
The crux of the story is that old mates Evan (Ben Mingay) and Ben (Brent Hill), together with Ben's wife Liz (Verity Hunt-Ballard) took out the best show award at the Edinburgh Festival in 2005 with their satirical cabaret. The thin edge of the wedge occurred right there: that's when Evan met Cynthia (Christina O'Neil), a sexy, pushy, take-no-prisoners manager. Since then, Ben and Liz have stayed pure: they've stuck with satire while Evan has gone onto fame and many awards as a television 'presenter'. Now, in the somewhat caricatured present, Liz is got at by some sort of mental virus – a voice in her head called Güüs (Virginia Gay) that makes her ashamed to be a renter. Then both couples find the same house and both must have it. 'Friendship' goes out the window. Evan and Cynthia, determined to win, employ ruthless, tricky Brenda (Virginia Gay again) to bid for them at the auction and…
At this point, you might take the rift between the couples more seriously if they really were true friends when this rift occurs – still working together, still believing in the same things, and if there were no Cynthia controlling Evan. You might also wonder why, having failed with this house, there are no others, and apparently cashed-up Ben and Liz are doomed to be despised renters forever – a fate reinforced for them in the second act. Any questions at all may not occur while we are vastly entertained by Keegan Joyce as the auctioneer, all too close to the real thing, orgasming when the bid goes past $1.2 million. (In North Fitzroy? I don't think so: that's hardly enough.) Things are enlivened further by brilliant turns from Gillian Cosgriff as Evan's airhead secretary, as a 'colour consultant' for Evan and Cynthia's renovation ('vivid white' is a whiter-than-white-white) and Evan and Cynthia's one-armed maid/hostage.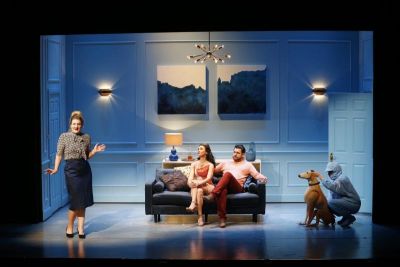 The cast, indeed, are all perfectly splendid – multi-talented, perfect comic timing, energetic and larger-than-life as the piece requires – and fleshed out by an ensemble of VCA Music Theatre students – directed by Dean Bryant to create pace and bring out every nuance. The production numbers are loud and brassy, even if you won't be humming any tunes on the way home. The songs comment on the action in Brechtian fashion – and all our characters take part as both singers and musicians. Ross Graham's lighting and Owen Phillips' design are impressively inventive, making great use of The Sumner's wide, deep stage to create reveal after reveal – especially the one the audience anticipates most keenly: what have Evan and Cynthia done with their renovation?
The plot is, okay, like many musicals, pretty thin, and the huge sort of deus ex machina nature of the climax smacks of the desperate contrivance of a show in search of an ending. But this is a musical and so it is as much about the songs as it is about 'the story'. It's interesting, however, that among the songs, the simplest work best – one about how you can't return a rescue dog (the 'dog' a nicely manipulated puppet), sung ruefully by Ben Mingay, and the other about those must-have engineered kitchen drawers that open and close at a touch, sung inimitably by Virginia Gay. The 'satire' of both these songs, albeit small target, is clear, true – and funny.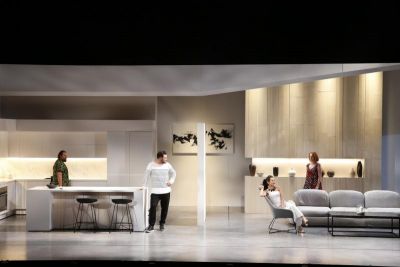 So… satire. Can it change the way we act? The show seems to imply that, yes, it can… but not in a world already controlled by Güüs. That control is, in a way, a bit of an evasion and, if anything, undercuts the satire since it doesn't come close to answering why we have this obsession with real estate.
Mr Perfect may be uneasy about satire since he writes a short essay about it as his program note. He defines satire as 'the art of making the middle class… feel bad about themselves in a manner entertaining enough to avoid being lynched when the curtain comes down… [it gives] the promise of a better way to exist… a more compassionate way to act… it confronts us with the worst of ourselves in order to inspire change.' He lists some instances of his tough experiences as a satirist: being heckled offstage, sacked mid-song, experiencing walk-outs and protests, receiving death threats and paying large sums to defamation lawyers.
I don't think any of those things are likely to happen with Vivid White. If the middle-class audience feels bad about themselves, it's fleeting. This is satire that is hardly excoriating. It rather flatters the audience – and it works. They give it a standing ovation (although that occurs so often these days the currency is somewhat devalued).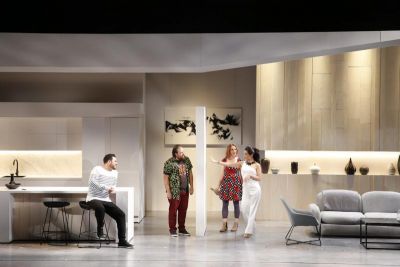 The moment of real discomfort for the audience comes in a moment of real satire - a witty pre-show announcement, delivered by Virginia Gay. She commends the audience for the gay marriage 'vote' – and the audience gives itself some self-congratulatory applause. But then Ms Gay adds, 'Too bad we can't do the same for the refugees… maybe if they were gay-er…? Very thin applause and there's a perceptible chill in the theatre.
'Satire, yes,' said D H Lawrence, 'but in the name of what?' It's not too clear here. Satire is not mysterious. We know what it is when we see it. And it can occasionally bring about change. Moliere's satire is clearly directed at middle-class hypocrisy and greed – albeit for the amusement of the aristocracy. It's clear what Swift's A Modest Proposal is about, or Sheridan's comedies of manners. In our time, John Clarke and Ross Stephenson were clearly furious with the profligate waste of The Games. What these few examples have in common is the moral anger of their creators – and without that anger the satire can be a little bland and limp.
Vivid White gets an extravaganza production with ingenuity, talent and resources heaped upon it, plus a great cast giving it all they've got. But it's a bit like an éclair – quite delicious, but the filling melts quickly away.
Michael Brindley
Photographer: Jeff Busby