Seymour Centre, Sydney. July 18, 2012
Fresh from successful performances in the Hunter Valley, Vivienne Powell's sentimental journey with Ella Fitzgerald, Julie London and Doris Day continues the seemingly popular trend for performers to pay tribute to their favourite stars. And why not? The songs they made famous are timeless and passing them on to succeeding generations seems like a good idea – though the audience, who certainly enjoyed the performance in the cosy Sound Stage at Sydney's Seymour Centre, were hardly newcomers to the repertoire!
Backed by Glen Amer on piano, Craig Scott on bass and Dave Williamson on drums, Powell began her tribute with Ella Fitzgerald's 'Just One of Those Things'. Perhaps it was nerves, or the cool weather, but the first few songs, and the introductory narration, were a little shaky. Fortunately, things began to warm up, and by the time she swung into 'Funny Valentine', Powell was much more confident and relaxed. Notes and phrasing were sharper and more controlled and the depth and strength of her voice was evident.
From Fitzgerald, she moved to Julie London and 'Cry Me a River'. London's hits worked well for Powell's own voice, allowing her to relax even more into the 'performance' aspect of cabaret, especially in a cheeky rendition of 'Bye, Bye Blackbird' with bass player, Craig Scott.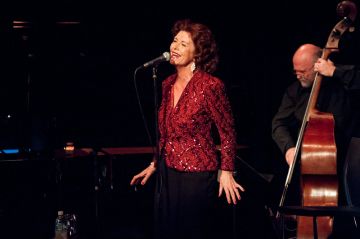 Just before a well-earned interval, she treated the audience to an operatic deviation via a 'one off' tribute to Maria Callas, and Carmen. Powell obviously relished the opportunity to show the full power of her voice, and the audience loved it!
With Doris Day's story, Powell was confident and strong. The choice of songs displayed her musical range and performance experience. The happy, upbeat musical theatre of a selection from Calamity Jane, which really appealed to the audience, gave way to a touchingly sensitive performance of "My Buddy'.
Musically, the material in Powell's sentimental journey is a great vehicle for the range of her voice and her theatrical music experience. The unsure part of the show is the narration. Obviously it's important to provide the background to the divas – to explain where they came from and why their fame has endured. Powell's research is extensive and when she shares some of the more touching aspects of their personal stories, her respect and admiration of the women behind the fame is tellingly evident.
There are some nice 'theatrical' touches, such as Dave Williamson's reading of some quotations, but Powell herself does not always seem confident in her delivery. Perhaps the small cabaret stage did not allow her to relax more into story telling mode, but more probably it was because the script is just too long. The choice of songs and their lyrics almost tell the stories by themselves, and it is when she is singing that Powell tells them most convincingly.
Carol Wimmer