Slide (Darlinghurst (NSW). August 10, 2011.
Get Into the Groove with the Charismatic Michael 'Madge' Griffiths
Who hasn't grooved along to one of Madonna's many hit songs over the past 2 decades? Well rather than grooving, we're cruising with Michael Griffiths in In Vogue: Songs by Madonna. Griffiths has us reclining in our seats and listening to the Queen of Pop's songs like we've never heard them before… Griffiths has beautifully crafted the art of performing the pop song with only a piano and a solid voice.He takes us on a cabaret ride of camp wit, reads out diary musings and drinks a cuppa from some fine china.
Griffiths doesn't try to be Madonna, nor does he tell us 'about' her, it's as if "he" is "she". He takes us on her journey in first person and it completely works! It's like Madge lives through Michael! He doesn't don heels or a 'cone' bra, just a fairly unassuming fur stole, white shirt and black pants, but what he doesn't have in costumes he has in charisma.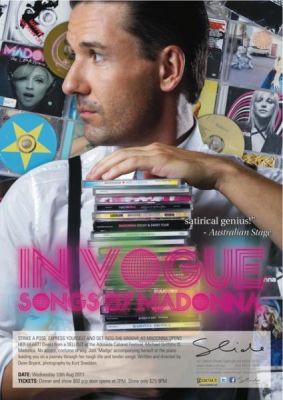 He's funny and charming and holds the audience with finesse and ease, sometimes he bangs the wrong note or forgets the words but it's all candid and part of the show - "woops, I can't remember the lines, can you fans help me out, haha" he hoots.It's his personable and engaging energy with the audience that ripples out and fills the small space at Slide Bar on Oxford St. Slide Bar has developed a bit of a name for being a go-to place for cutting-edge cabaret. The environment is perfect for this kind of intimate show with table seating, dim lighting, mirrors and lounges.
Griffiths belts out many Madonna faves including all or parts of: Like a Virgin, Like a Prayer, Lucky Star, Borderline, Material Girl, Papa Don't Preach, Express Yourself, and of courseVOGUE. I was most excited by this as the one and only album I have of Madonna's is 'The Immaculate Collection' which features almost all the songs in Griffith's show.
Dean Bryant's cleverly crafted writing is witty, sharp and naughty, especially when there's a little break from the singing and Griffiths comes forward, perches on a stool and shows us some "photos," - need I say more? Madge in her 'hey-day' was very risqué (but not compared to the pop stars of now) and these photos just have the crowd in stitches.
This is a cool show with an ever-engaging performance from Michael Griffiths, who is more than accomplished to take the reins having appeared in Priscilla Queen of the Desert, We Will Rock Youand Shout and currently Jersey Boys.
Emma Bell
Emma Bell is a writer, reviewer and interviewer and can be found at http://www.emmabell.com.au
To keep up with the latest news and reviews at Stage Whispers, click here to like us on Facebook, or follow us on Twitter