OzAsia Festival. Hotel Pro Forma. Featuring the Latvian Radio Choir. Direction: Kirsten Dehlholm. Conductor: Sigvards Klava. Dunstan Playhouse, Adelaide Festival Centre. 5-6 Nov, 2018
Among the greatest privileges in attending a festival such as OzAsia is the opportunity to witness works of bold artistic adventure and daring, combining elements and showcasing ideas that likely wouldn't be conceived, let alone staged, by a local theatre company. War Sum Up is one such production with a commendably adventurous spirit.
A contemporary opera presented in three parts (The Soldier, The Warrior, and the Spy), it gives off quite a wealth of information for the senses to process and absorb, though never in an overwhelming or unpleasant fashion: Japanese lyrics, English surtitles, textual backgrounds, illustrated graphics that expand or contract, patterned overlays that create fascinating visual dimensions…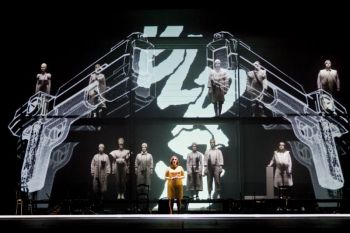 The three tales are told in a manner that is more oblique and poetic than straightforward, but there is certainly enough inventiveness and innovation on display here to make a most worthwhile experience, though the overall effect is a little static at times, due mainly to the relative lack of onstage movement. The video designs of Sine Kristiansen deserve special mention for their outstanding, at-times-mesmerising qualities.
The Latvian Radio Choir display a level of flair and facility here that, considering the intricacy and idiosyncrasy of the vocal arrangements and score (credited to UK art-pop ensemble The Irrepressibles and French electronic artist Gilbert Nouno), earns them the heartiest of praise.
Those who seek accomplished avant-garde adventures in the theatre would be well advised to keep a close eye on any future exploits from Hotel Pro Forma.
Anthony Vawser