By Mark Swivel. Queensland Theatre Company. Cremorne Theatre, 4th April – 7th May 2011.
This play is brilliantly performed by two of Australia's finest actors: Ron Haddrick as the ailing father – he is becoming aphasic – and Andrew Buchanan as his middle-aged son who agrees to indulge his father by travelling overseas with him to the places his father visited frequently with his wife until her recent death.
Andrea Moor directs the often crusty, sometimes touching encounters with sensitivity on an open stage-with-revolve and video projections of the multiple localities. Designer Ross Wallace deserves special credit for his uncluttered but visually effective staging. Jason Glenwright, as usual, provides inspired lighting that enhances the mood and focuses our attention, without ever intruding.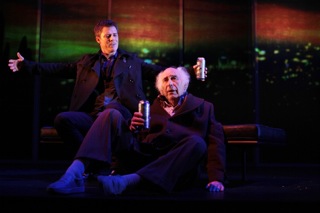 The concept of the play is rather like an all male equivalent of Mother and Son. If you enjoyed that television series then the dark humour in this play will appeal to you too. Not only are the men separated by their egos and a generation gap, but also each has his own grief to deal with. The son's marriage has broken down and as a result he has lost touch with his own boy.
Water Falling Downdeals with very modern social situations. For some people it cuts too near the bone. But the acting alone is worth the admission price.
Jay McKee
Images: Ron Haddrick and Andrew Buchanan.
Photographer: Rob Maccoll