Adapted from the novel by Samuel Beckett by Barry McGovern & performed by Mr McGovern. Melbourne International Arts Festival. Arts Centre Melbourne, Playhouse. 4 – 11 October 2018
Barry McGovern is a mesmerising presence; he is in complete control of his material and his performance. Alone on an almost totally bare stage for sixty minutes – and telling a rambling, discursive and dissatisfying tale – he compels attention by his concentration, the modulations of his rich voice and the minimalist use he makes of his body – particularly his eyes, which can suddenly light up… and then go dull, resigned again to the hopeless fate of his eponymous 'hero'. His most vigorous movements demonstrate the way Watt walks – a complete absurdity but a metaphor (perhaps) for the way we avoid going straight ahead – or the appearance of doing so – only to end up going straight ahead.
Mr McGovern narrates the story (such as it is) of Watt's journey by train and on foot, via a ditch, to his place of employment with one Mr Knott. But we first meet Watt – and the pun is intended, as with 'Knott' (and played upon in the manner of the famous Abbott and Costello routine) - as an indistinguishable bundle of rags in a Dublin street. He wears one brown boot and one brown shoe.
Although he narrates Watt's fruitless adventures in the third person and at times speaks in the voice of others whom Watt encounters, Mr McGovern too wears one brown boot and one brown shoe. Is he Watt? Are we?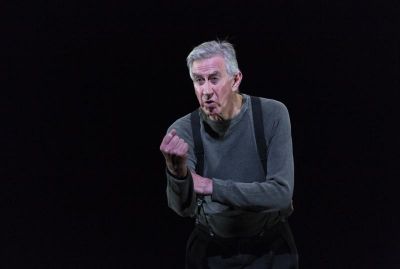 Once he's a member of Mr Knott's establishment, Watt encounters various congenial others, but they leave no residue and have no effect upon his life, despite efforts to connect. He never meets Mr Knott (a precursor of Godot?). In a crucial – or circular - sense, nothing happens, but as our narrator tells us, the way to make nothing into something is to speak of it as if it were something…
The bare stage is beautifully designed and lit by Sinead Mckenna. The lights alone separate and designate the stages of Watt's journey and his experiences chez Knott. Mr McGovern, in undershirt and baggy trousers held up by braces, and that mismatched footwear, commands the space, using only a straight-back chair to suggest other characters. You sense that director Tom Creed has honed every element: the show is peppered with tiny detail and very precise.
Mr McGovern has, as he puts it, distilled Beckett's 1945 (but unpublished until 1953) novel, written during the Nazi Occupation of France where Beckett was hiding from the Gestapo – due not to any literary activity but to his participation in the French Resistance. The 'novel' was written in dribs and drabs between 1941 and 1945 – a time of enormous stress and jeopardy for the author - as a means of staying sane.
It is also a transition on the way to his plays: absurd, elliptical, heavily weighted with irony, implicitly philosophical, deliberately but playfully repetitious, quasi-vaudevillian and apparently nihilistic.
The word 'blarney' does spring to mind – but there is more to Watt than that. In any case, it is held together, and it holds our attention. because of Mr McGovern.
Michael Brindley
Photographer: Pia Johnson.