By Queen and Ben Elton. Encore Theatre Company. Belinda King (Director) Danny Gibson (Stage Manager) Travis Hennessy and Benjamin Austin (Musical Directors) Dearbhla Gillen (Choreographer). Princess Theatre Launceston. August 1 – 10, 2019
Talent abounds on the NW coast of Tasmania. It was only a short five months ago that Encore staged Strictly Ballroom, a production notable for accomplished dancers. This August, Encore has cast strong contemporary voices in We Will Rock You.
Some of these skilled dancers from the previous show front the ensemble but character actors also abound. The strength of this production, however, lies in the principal performers.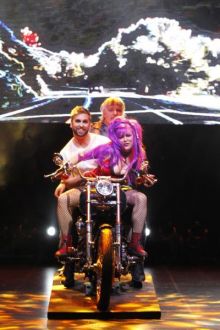 Nathan Wheldon brings significant experience in the band scene to the role of Galileo and does not disappoint in a very demanding vocal role. Natalie Reid is very much at home, physically and vocally, in the role of Scaramouche. She smashes it out of the park.
Nikia Breen (Oz) also has experience with cover bands. It is difficult to reconcile the unassuming bio shots of both she and Zander Wells (Brit) with the assured and energetic performances they give.
Jarrad Ennis sings well and looks good in the role of Khashoggi, hardly seeming evil at all, but Samantha Hammersley is unforgettable as Killer Queen. She owns the stage in a costume as powerful as her voice. The confidence and vocal strength of these performers is backbone of this production in which, of course, the music of Queen is the real star. The band, a small ensemble, puts out a mighty sound and that one guitar solo is worth the wait.
Most of the design was imported from Jon Bowling's vision for the previous Hobart show (John X Presents) which in turn was faithful to the original. Lighting, audio-visual and effects are integral to the action and manage to evoke the concert origins of the music. The technical aspects of the show were challenging and Dwayne Parish must be acknowledged as AV and IT manager.
The show is nearly twenty years old now and the humour is a bit corny but, remarkably, it still can speak to a generation which has sold its soul to software companies and in which consumption of media has overtaken creativity. Encore Theatre shows the imaginative power of what people working together can do.
Anne Blythe-Cooper