By Queen and Ben Elton. Gosford Musical Society. Laycock Street Theatre. March 3 - 17, 2018.
This is an electrifying production that delights and surprises members of the audience. I overheard this comment at interval in the men's room: "Gee, I didn't expect it to be this good!"
The throbbing heart of the performance is the kick ass band. They perform at the top of the stage with lights teasing us with their presence. The musical director Nathan Barraclough, who looks and plays like a rock star, gets his own moment under the spotlight.
He descends down the stairs to the front of the stage to thrash out "Bohemian Rhapsody". I may not be a guitarist but I could not really tell the difference between his performance and Brian May's riff a few weeks ago at the Queen and Adam Lambert concert.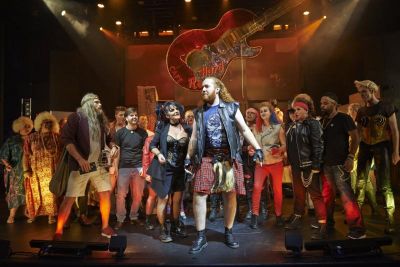 Now a lot is said about the book by Ben Elton. We Will Rock You is set in the future where rock music is banned. The Bohemians pick up confused fragments of rock music from days gone by. But somehow, even though it's banned, they keep singing rock songs.
The Director Daryl Kirkness immediately set the right tone. This might be a bit silly but tonight we are going to have a good time and enjoy some great music. He eased the audience into the mood by opening with a cheesy sci-fi lighting display and splashes of fluorescent swirls, on blacked out members of the chorus. Combined with cute choreography by Amanda Woodbine, the audience immediately felt at ease with the story line.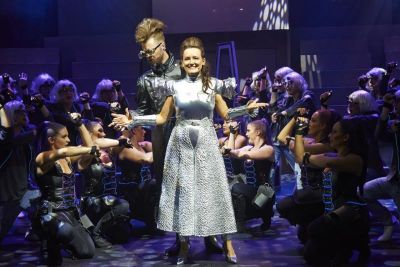 Aided by hoards of volunteers, The Gosford Musical Society's trademark stagecraft was also at full throttle. Onto the stage rolled an impressive looking Harley Davidson and (destined to be seen at other venues around Australia) another icon - a carved statue of Freddy Mercury.
As for the cast it was a huge night for the girls. Teaghan Thompson was an immediate powerhouse as Scaramouche, setting the tone by belting out "I want to break free". Likewise Jodie O'Connor was a killer of a Killer Queen. For the boys, Dylan Pollard got lots of laughs as Britney Spears, whilst Jesse McGrath looked the part as Galileo.
The good folk of the Central Coast will be sorry if they miss this production.
David Spicer*
* David Spicer manages the nonprofessional rights to We Will Rock You in Australia and New Zealand.