Concept: Giordano Nanni. Adapted by Andrea James and Giordano Nanni. Ilbijerri Theatre Company (VIC). La Mama Courthouse Theatre. Director: Isaac Drandic. Designer: Darryl Cordell. November 18 – 27, 2011.
The motif for the Ilbijerri Theatre Company is Bold Black Brilliant. And this is the case for the company's latest work We Will Show the Country.
We Will Show The Country is a unique collaboration of theatre and historical fact that tells the story of the Coranderrk station; land that is now, near present day Healesville.
The station, a thriving and self-sufficient home to a number of aboriginal clans in the 1800's inevitably came under the threat of expanding European colonisation, displacing the inhabitants yet again.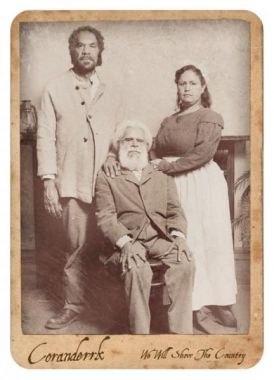 With the vested interest of powerful lobbies in the valuable land for the use of white farmers, the occupants became vulnerable to a conspiracy that aimed to close the station down. This play is a theatrical re-enactment of the oral testimonies before the 1881 Parliamentary Inquiry appointed to decide upon the future of the station.
What is extraordinary about this play is that the script is constructed from the actual Minutes of Evidence, a unique recording that is one of the first documents with aboriginal voices from such an early period. Writer Andrea James and writer/historian Giordano Nanni, who discovered the transcript when researching for his PhD at Melbourne University, have meticulously created an account that will satisfy both historians and theatre-lovers alike.
On entering the elegant setting of the La Mama Courthouse Theatre, the audience takes their seats as privy to the proceedings that follow. No doubt bravery was required for the occupants of Coranderrk to stand and testify to their grievances in the search for justice in such intimidating circumstances.
Many characters are heroes in this story including renowned aboriginal leader and artist William Barak, played by Jack Charles, who was pivotal in the campaign to protect Coranderrk.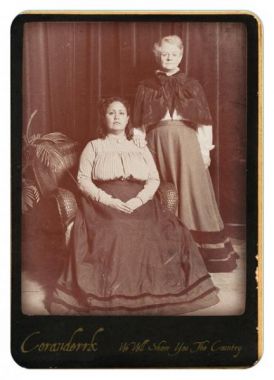 But the play strives against "black versus white". Tom Long, well-known Australian actor of film and television, gives a moving performance as the Reverend John Green, who, as the original station manager, was a trusted friend and ally of the people of Coranderrk.
All the cast is superb. As most of the actors play several characters with a minimal costume change, their character transformation skills are well utilised.
This is an opportunity to experience an important part of Melbourne history brought to life.
Unfortunately if you are thinking about seeing the play, this season is sold out – or you could join the waiting list.
Karen Coombs
Images: Jack Charles, Tom Long and Greg Fryer; Greg Fryer, Jack Charles and Melodie Reynolds. Photographer: S Rhall
To keep up with the latest news and reviews at Stage Whispers, click here to like us on Facebook, or follow us on Twitter.