By Aidan Fennessy. Music and Lyrics by Tim Rogers. Melbourne Theatre Company. Riverside Theatres, Parramatta. October 11 – 14, 2017
Backing this production as leader of a skilled musical trio, Tim Rogers watches a love story unfold around the songs from his solo album, What Rhymes with Cars and Girls. Written by Aidan Fennessy – " I was struck by the musical diversity of the album ... and had one of those moments when I thought, 'This sounds like a musical'… and took it from there" – the play is a raw urban romance set across class divides. Though it could well stand alone, the songs make it more gritty, more intimate and more universally appealing.
Fennessy's script introduces the characters Johnno and Tash – played by Johnny Carr and Sophie Ross – in short autobiographical sentences that are very natural and establish a warm rapport with the audience.
He is one of two brothers, abandoned by their mother and brought up by their father, 'a giant of a man' who is now laid low by asbestosis and oxygen-dependent. She is living in a cheap bed sit and is short of cash. She orders a pizza despite the fact she can't pay for it. He delivers it. She sweet talks him into leaving the pizza and coming to hear her sing with a band, after which she'll be able to pay him the $19.95 she owes.
When he hears her sing, he's hooked. She's a little bit smitten too. They talk through the night, ending up sitting on the branch of a Port Jackson fig watching the sunrise. It's the beginning of a sweet, gutsy romance that almost breaks the 'north shore' class barrier, flounders for months, then blossoms again.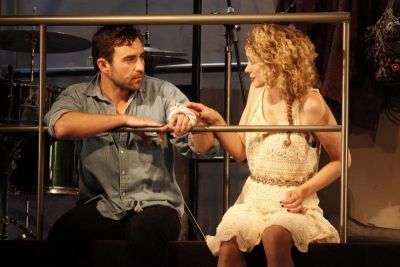 With the sensitive perception direction of Clare Watson, Carr and Ross create a relationship that is beautifully believable and charmingly natural. There is a chemistry – manifested in quirky smiles, gentle caresses, cheeky tickling, rapt listening across a wide stage, hurt reactions to thoughtless words – that appears spontaneous, genuine, unaffected, artlessly open. Hard to sustain but incredible when it works like they make it work
On Andrew Bailey's set, complete with spiral staircase and mezzanine, Tim Rogers (guitars), Xani Kolac (violin) and Ben Franz (double bass, pedal steel guitar) provide the music that links the short chapters in their story. An intimate part of the action, they listen, watch, play softly behind the dialogue, then expertly back the songs that Rogers first released in March 1999, and about which he says: "they were about of their time in musical and lyrical style …about relationships that are a little exacerbated ...but it's all resolved in the end'.
Fennessey supports this idea in the way he has incorporated the songs as accessories to the story or reactions to event. Hence Twenty Eight and Anniversary become songs of celebration – and You Just Don't Do It For Me Friend reinforces Johnno's hurt and passionate reaction to his future father-in-law's attitude to welfare recipients. Ross and Carr use the songs to heighten the emotional impact of their relationship, intensifying their joy, deepening their pain.
Rogers takes his bow as just one of the other performers, but the response of the audience reveals the continuing popularity of his work.
Carol Wimmer