By Andrew Bovell. Centenary Theatre, Brisbane. 7 – 28 September, 2013
Tracing four generations from 1959 to 2039 in the jigsaw pattern of life by which we discover our own past, this splendid 'family play' engages us, intrigues us, often frustrates us. Even by the last scene – which takes up where the play began – the central character, young Andrew Price, is less aware of his heritage than we are. We have been privy to events in those four generations that are just too hard to reveal at this delicate father-son reunion.
Cam Castles' inspired casting and perceptive direction are the backbone of the production. The players breathe life into his, and Bovell's, vision. The action takes place in London, Adelaide, the Cooyong, Hay Plain, Alice Springs, and Uluru. Brian Hobby's lighting and sound designs, and Sarah Reinking's film montages, are as important here as any actor; they define time and place for each scene.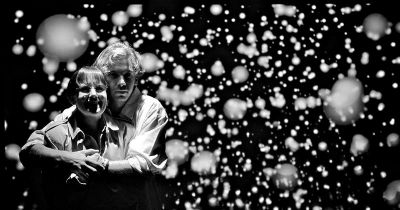 Bovell's motifs connect the families: rain; fish and fish soup; repainting drab walls; and names Gabriel and Gabrielle. Castles chose an open neutral space with just a window frame downstage through which characters, deep in thought, gaze at the gloomy weather; and on the other side a long family dining table. A central thrust and two chairs suffice for other short scenes.
The actors, Andrew Nathan (Gabriel York), Tom Yaxley (Gabriel Law and Andrew Price), Alice Long (young Elizabeth Law), Jan Lord (older Elizabeth Law), Paul McGibbon (Henry Law), Leanne Shellshear (young Gabrielle York), Meg Hinselwood (older Gabrielle York), and Calvin Smith (Joe Ryan) played as a brilliant ensemble, all strong well-defined characterisations. Theatre at its best.
Jay McKee