Natalie Weir / Ian Grandage. Expressions Dance Company with Camerata of St John's. QPAC in association with Brisbane Festival. Playhouse, QPAC. 6-14 September 2013
The greatest triumph of this new work is Iain Grandage's music, a 70 minute composition for strings played impeccably by the Camerata of St John's. Contributing to that was Natalie Weir's concept to choreograph the musicians into the ballet itself. They emerge and disappear as solos, groups or as all twelve players according to Grandage's demands for each of 14 short scenes that flow together to represent life events that flash past in the final moments of a woman's life.
Violinists and violists don't like to move while playing, but it must be hell for the cellists and bassist. Like the dancers, they work barefoot and never miss a beat.
While he writes in a modern idiom, Grandage's melodies smack at times of Mahler and other late Romantic to early neo-Classical composers.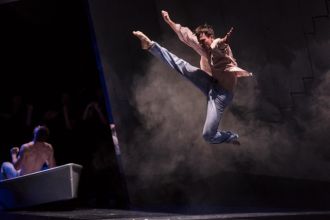 Bill Haycock's surreal space in black and white with a focus on the rowing boat upstage is pivotal to this piece. I sympathise with the ferryman of the Styx who spends most of the time rowing energetically. David Walters' lighting brief was to give it a starring role. In flashes and rays, shafts and dark spaces, he has. Especially effective was the use of mirror images to enhance the ethereal effect.
The skill and athleticism of contemporary dancers is amazing, but there are only so many ways of leaping and catching, rolling and contortioning, writhing and entwining. I found the actual ballet factor repetitive. The audience throughout was breathlessly quiet; they were captivated. I demur to their judgement!
Jay McKee
Images by Dylan Evans.