Camerata. QPAC. Sunday 3 December, 2017
Camerata – Queensland's Chamber Orchestra – combines music and drama to tell the story of Nancy Wake, infamous WWII journalist and spy. The Gestapo's most wanted, Wake was named the 'White Mouse' because of her ability to scurry across countries and evade capture.
Camerata are renowned for stepping outside the usual repertoire by including classics, popular music and new Australian compositions in their performances. They also appeal to a wider audience by incorporating a dramatic element – the historic biography. But this is not just an assortment of tunes strung together to garland the main dramatic action – The White Mouse is a carefully blended montage of acted vignettes and musical compositions hand-picked to reflect the theme and mood of each scene in Wake's incredible tale.
Having previously brought the lives of classical composers to the stage, The White Mouse is the fourth collaboration with writer/actor, Tama Matheson. Matheson uses the setting of a pub at closing time to create an easy exposition – the 'barkeep' bribing regular barfly Wake to tell her story if he keeps the drinks flowing past closing time.
As gutsy Wake, Veronica Neave confidently emits courage, tireless vitality and spirited Antipodean humour (born in New Zealand, Wake insists she is only Aussie by adoption, but her humour betrays her). As well as the steely veneer, Neave manages to hint at Wake's softer side, drowning her troubled past with triple gins before last orders. A surprising cameo by Duff the terrier as Wake's first love – her little French pooch, Picon – is also a clever way to let us warm to Wake in a short space of stage time.
Experienced performer Tama Matheson, who also wrote the script, is a strong and steady foil to Neave's energy. The two expertly play the script's unexpected humour as a welcome counterpoint to the horror-filled reality of war.
Matheson's role is to colour and move the action, playing a variety of characters in Wake's adventurous life between 1932 and the end of the war (perhaps too many to really showcase the depth of his ability). As well the barkeep, he plays Wake's religious mother in a hilarious scene explaining why Wake couldn't leave home fast enough at age 16. He becomes Wake's two bookend Henris – Henri Fiocca, Wake's French husband, a wealthy businessman who helped fund her Resistance work, and Henri Tardivat, head of the rural resistance Maquis group, who rescues Wake when she parachutes in to occupied Auvergne toward the end of the war.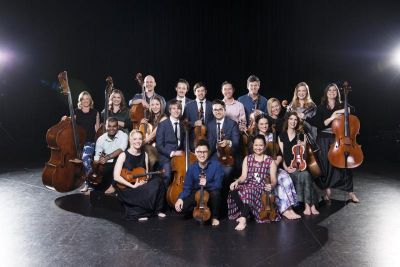 Matheson also brings to life various English military personnel, Gestapo, and several French Resistance agents. Without the use of props or extra costumes, it is down to just a couple of jackets, a vest, a bar towel, witty use of coke-bottle spectacles and Tama's impeccable array of accents to help us decipher which character is which. Perhaps costume changes would have led us too deep into 'Allo 'Allo territory, but I do believe that artistic licence could have merged the French Resistance characters without damaging the storytelling. And the technique did trip over itself at the conclusion when, jarringly, the barkeep suddenly becomes our sole narrator. Simply continuing his bar conversation with Wake might have provided a more emotional and less 'Wikipedia' ending to her tale.
No mere interludes, the music provides a shortcut to Wake's emotional state at the time of her exploits. The musical selection by Brendan Joyce, Camerata Artistic Director and music curator, is faultless – a pleasant assortment of sweet and hard-centred treats – perfectly suited to each dramatic turn. Compositions by Gershwin, Ravel, Hartman, Elgar and Mendelssohn underline each scene – from Wake's initial journeys to England and Paris, through the Nazi invasion and the mountain treks (and bike rides!) on the road to freedom. They are meticulously chosen – for example, Canadian composer, Marjan Mozetich was born after the war, yet his beautiful 'Postcards from the sky: unfolding sky' is the perfect piece to accompany Wake's parachute drop. A recurring theme by Australian composer Carl Vine ('Smith's alchemy for string orchestra') written in 2001, could be purpose-built as a soundtrack to a Wake biopic. It is spot on.
Camerata is an accomplished group of 19 musicians, and it is always a joy to see live orchestral music. Two standout violin solos by Sally-Ann Djachenko had the audience reacting with a rapturous 'Wow!' Stunning vocal performances by very recent Queensland Conservatorium graduate, Meg Hamilton, included tackling the complex and mature 'Non, je ne regrette rien' by Dumont and Vaucaire, made famous by Edith Piaf. Such high-quality showcased talent will surely have audiences eager for more.
The musical performances were effortless and emotional. Stepping up to a multi-tasking role, the musicians dress in period costume and act as crowd extras for crucial plot points. They also become part of the simple and succinct set design. Among other historic backdrops, small projections behind the orchestra take us to Paris and show Hitler coming to power.
Plinths on either side of the stage with long, leading staircases display dramatic tableau: Nancy at the bow of the ship travelling from Australia to England; a Resistance fighter beaten and exhausted in a German prison camp; Nancy draped over a chair representing her tangled parachute fall into trees as she awaits rescue. The long staircase becomes the French Pyrenees where Wake trekked with Jewish refugees, helping thousands escape to freedom in Spain. It is an effective use of space without diverting attention from the main action.
Which brings me to a minor criticism, although it has to be said – while it is on record that Wake swore like a trouper, (and yes, I read the warning posters in the foyer) I believe there was no need to pepper the script so liberally. When the language is used for dramatic or comic impact, the audience is on side and it works. But surely the performers could feel, like I did, the audience withdraw, distracted, jarred back into present day when the swearing was overloaded. The White Mouse has only been performed twice – at Toowoomba's Empire and Brisbane's QPAC. My feeling is that a wider audience of music and theatre lovers will be assured if the language is more cleverly honed for future performances – of which there will no doubt be many, many more.
Beth Keehn