Music and lyrics by Stephen Schwartz. Book by Winnie Holzman. Directed by Lisa Leguillo. Regent Theatre, Melbourne. May 10, 2014.
If we gave star ratings in reviews I would simply fill all of cyberspace with stars and nothing else; that's how good the opening night of this season of Wicked is. Instead, I have to find words to describe what was a glorious night of theatre for everyone.
The production itself hasn't changed greatly since we all marvelled at it some six years ago at the same Regent Theatre. The marvellous set seems a little more squashed, but that works in allowing some songs to be performed further downstage ("As Long As You're Mine"); and a closer contact with the audience to be created. Stephen Schwartz's terrific score still provides great songs you will sing all the way home, and the book (Winnie Holzman) is arguably the best of any of the great Broadway Musicals: simply stunning. The costumes are as glorious as ever.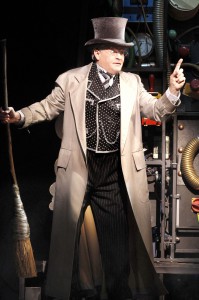 What has changed in six years are certain technical aspects (the upgraded hi-tech lighting design (Kenneth Postner) is breath-taking) and the performances. It's the latter that make this such an extraordinary night of theatre. The re-casting of some key roles has raised the cast level to the lofty heights of superlatives, and I have to go first to The Wizard himself. Reg Livermore dazzles in the role which has previously seemed the weakest in the show. He leaves all others demolished in his path. We tend to forget just what an astonishing performer Livermore is. Along with the charisma, the stagecraft, the finesse, the humour and the voice, is the pathos of a truly great actor who finds every emotion in the subtext. It's a bravura performance and though only a few oldies cheered at his first entrance, the entire theatre was in worship-mode for his finale call. If you were casting "Wicked – The Movie" you could not possibly go past Livermore. Welcome back Reg, and please stay around for many more years.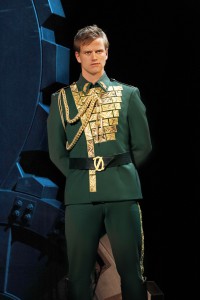 In Steve Danielsen we finally have a true triple threat Fiyero, and he is simply fabulous in the role. His performance adds a credibility and authenticity to the part that many found missing previously. The fact that he has recently worked with Lucy Durack in Legally Blonde just added to the intimacy and rapport between them. We have an exciting new leading man for whom the sky is the limit. Similarly, Edward Grey brings much more than could reasonably be expected to the role of Boq. He is the epitome of what Musical theatre should be; oodles of talent, great stage presence, and the ability to take a role, shake it up, and make it his own. Emily Cascarino is beautiful as well as talented, with a brittle edge that works perfectly as Nessarose, and Nathan Carter is an absolute delight as Doctor Dillamond. The ensemble is brilliant, as Australian ensembles inevitably are. Maggie Kirkpatrick, though stalwart in reprising Madame Morrible, was a little disappointing in the role she made her own six years ago. Perhaps the fact that the overall performance level has tripled its impact in this production has thrown her a little. However, she will undoubtedly throw on extra mantles of stagecraft and experience as the run continues.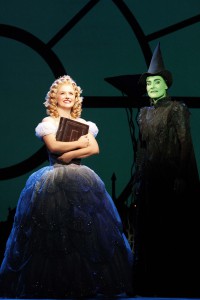 And so to the "New" Elphaba and Glinda. I say new because these two astonishing performers have come so far in the years they have been playing these roles that even they would not recognise themselves. Lucy Durack is now a fully-fledged musical star, and it shows. The poise is greater, the voice is stronger and more powerful in the top register, and the connection with the audience and everyone on stage is magic itself. Add to this a fully developed sense of timing and a delicious stock of comic inventions worthy of Lucille Ball, and you realise that you are watching someone who would be a star on any stage in the world….she is just superb. "Popular" was a joyous example of musical theatre.
And, saving the "best"… (by a flying monkey's whisker) till last, Jemma Rix is nothing short of astonishing. She gives us an Elphaba that is flesh and blood, darkness and yearning, a superb acting job. Her singing is unbelievable, rich and full in the bottom register, soaring on top. Ms Rix is not just a "belter", she understands the lyrics, she conveys the loneliness as well as the conviction…. "No Good Deed" rivalled "Defying Gravity" for invoking Goosebumps. We do not need to see any Broadway star in this role. Ms Rix IS Elphaba. To see these two amazing performers at a heightened, adrenalin rush, peak of their game is a privilege…and where else do you get an 11 o'clock number that is a duet? "For Good" was, in all its simplicity, the seminal moment in this story of friendship.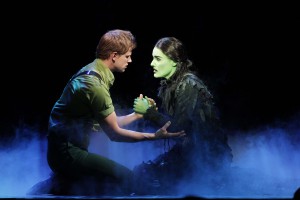 Wicked is more than a show, it's a definition of why so many of us love Musicals and are obsessed with theatre. It truly does not get any better than this.
Coral Drouyn
Images: Jemma Rix, Reg Livermore, Steve Danielsen,
Lucy Durack and Jemma Rix 'For Good',
Steve Danielsen and Jemma Rix,
and Wicked Ensemble.
Photos by Jeff Busby.
FOOTNOTE.....I've just learned that Maggie Kirkpatrick had been unwell all last week and had laryngitis. She dragged herself on stage like the trouper that she is. Bravo Maggie.
More Reading
Our galleries of Wicked stars as babies
Earlier Wicked coverage and videos