Music and Lyrics by Stephen Schwartz. Book by Winnie Holzman. Based on the novel by Gregory Maguire. CLOC. Co-Director/Set Designer: Chris White. Co-Director/Choreographer: Lynette White. Musical Director: Danny Forward. National Theatre, St Kilda. May 6 – 21, 2016.
As a musical Wicked is a spectacle. So how would an amateur company go producing this? In a word, magnificently!
It started as we sat down to observe Chris White's enormous wooden structures at each side of the stage, with narrow stairs and landings. The curtain featured a map of Oz.
The curtain rose and the chorus appeared, all with odd, unsettling makeup. Movements were strong, choreography was effective and tight and energy was high. The costumes were amazing.
The two protagonists appeared and I couldn't imagine a better pair. Rosa McCarty was a touching Elphaba, capable of great pathos in "I'm Not that Girl" and dramatic power in "Defying Gravity". This was a tour de force. Her voice was excellent.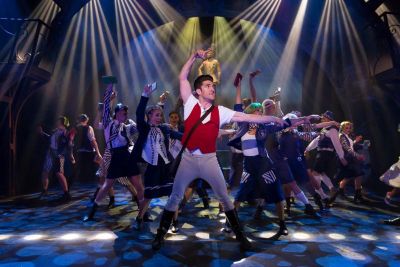 Equally strong vocally, Emily McKenzie played Glinda, in a large blonde wig and dressed like a Disney princess. The quintessential "dumb blonde", she was very funny, but even in moments of pathos, never lost the character who wasn't the sharpest tool in the shed. The love-hate relationship between these two was well realized.
Robbie Smith played their love interest, Fiyero. An excellent dancer, he managed the transition from shallow heart-throb to meaningful partner with subtlety. Carolyn Waddell was a strong Madame Morrible.
I am often critical of the sound, but I have rarely heard better. The words were clear and the harmonies excellent.
The lighting was something else. The large time dragon was perched over the orchestra pit and there seemed to be lights coming from every conceivable direction. When Elphaba cast her first spell, the lighting made it appear is if the stage was moving. I don't recall encountering better.
I remember the professional version of Wicked, but don't recall leaving the theatre feeling so uplifted as I felt after this.
Graham Ford
Photographer: Ben Fon.